Air/Water Barrier System eliminates need for house wrap.
Press Release Summary: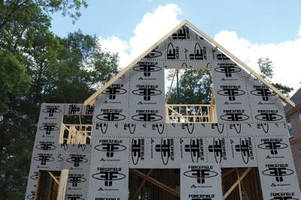 Used to keep potentially harmful water out of structure during construction, ForceField™ consists of engineered wood sheathing panels laminated with air and water barrier. Panel joints are taped with seam tape once wall sheathing is installed on structure to help prevent air infiltration and leaks. Available in 7/16 CAT thickness and sizes of 4x8, 4x9, and 4x10 sizes, panels install akin to standard plywood or OSB sheathing panels. Tape comes in 3 in. x 165 ft rolls.
---
Original Press Release:
New Sheathing Innovation from Georgia-Pacific: (TM) Air and Water Barrier System
ATLANTA – Designed to keep potentially harmful water out of a structure during construction, the new ForceField™ Air and Water Barrier System from Georgia-Pacific consists of engineered wood sheathing panels laminated with a proprietary air and water barrier. ForceField debuted at the 2016 International Builders' Show in January.

"Early builder feedback was positive, and this sentiment was reinforced many times over at IBS," said John Beers, sales director for engineered wood at Georgia-Pacific. "From builders to contractors and architects, our booth stayed packed with interested attendees during the show. Everyone wanted to see ForceField and learn more about it. We look forward to sharing it with even more customers in the months to come."

How it works: once ForceField wall sheathing is installed on a structure, the panel joints are taped with ForceField seam tape, which helps prevent air infiltration and leaks. Together the panels and the seam tape create an integrated air and water barrier system that eliminates the need for house wrap.

"The ForceField installation process is a jobsite time-saver compared to typical house wrap installation," continued Beers. "Studies have shown a time savings of up to 37% when installing an integrated air and water barrier. There's no unrolling, fastening or calling in multiple crews to install house wrap; ForceField panels are installed like standard plywood or OSB sheathing panels, then once the tape is installed, you're done."

Perfect for residential or light commercial applications, ForceField panels are available in 7/16 CAT thickness, and sizes of 4x8, 4x9, and 4x10. ForceField seam tape is currently available in 3 in. x 165 ft. rolls. ForceField comes with a lifetime limited warranty for the homeowner and a two-year pre-installation warranty for the builder.

For more information go to: www.gpforcefield.com.

About Georgia-Pacific
Based in Atlanta, Georgia-Pacific and its subsidiaries are among the world's leading manufacturers and marketers of bath tissue, paper towels and napkins, tableware, paper-based packaging, office papers, cellulose, specialty fibers, nonwoven fabrics, building products and related chemicals. Georgia-Pacific has long been a leading supplier of building products to lumber and building materials dealers and large do-it-yourself warehouse retailers. Our familiar brands include Plytanium® plywood, Blue Ribbon® OSB, Wood I Beam™ joists and GP Lam® LVL. Our familiar consumer brands include Quilted Northern®, Angel Soft®, Brawny®, enMotion®, Sparkle®, Mardi Gras® and Vanity Fair®, as well as Dixie®. Its GP Harmon subsidiary is among the world's largest recyclers of paper, metal and plastics. The company employs approximately 35,000 people directly, and creates nearly 92,000 jobs indirectly. For more information, visit: gp.com.

CONTACT:
Media Contacts:
Jeff Key
Georgia-Pacific
(404) 652-5439 
JLKEY@GAPAC.com

Kim Drew
APR
kimdrewpr@bellsouth.net
(706) 568.9504

Web Site: http://www.gp.com