Universal Process / Temperature Controllers
Air Temperature Control suits temporary heating applications.
Press Release Summary: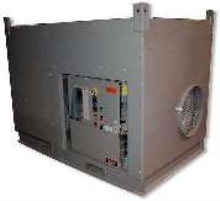 Electrically heated, 100% efficient HACS produces zero emissions. Available for up to 150 kW and 7,000 scfm air at 5 in. WG, unit is suited for temporary on-site comfort heat, curing plaster, drying paint, spot heating for personnel, and freeze protection for equipment. High limit temperature and low limit airflow controls ensure safety during operation. Painted carbon steel construction offers weather resistance, and all electrical enclosures are NEMA 4 rated.
---
Original Press Release:

Chromalox Introduces HACS Packaged Air Temperature Control System


PITTSBURGH - January 10, 2005 - Chromalox®, the world's largest manufacturer of industrial heat and control products, is proud to introduce a customizable air temperature control system for comfort, rental, and construction heat applications. The Chromalox HACS system provides accurate temperature control and air handling capabilities to meet any large capacity temporary heating application.

The electrically heated unit is 100% efficient, produces zero emissions, and is environmentally friendly. The rugged design and construction means that these units are tough enough to withstand the wear and tear of construction sites and the rental market. The HACS is designed for a maximum combination of options regarding flow, control, construction, and monitoring. This allows rental and construction companies to customize the HACS to best suit their individual application and market needs.

These air-handling units can be designed for up to 150kW and 7000 SCFM air at 5" WG. The larger heat capacity and higher air volume fill the gap between small, portable air heaters and the large, fixed commercial air handlers typically used for permanent installations. The HACS can be used in many applications, including:
o Temporary on-site comfort heat for large capacity special events.
o Interim comfort heating system during commercial construction prior to permanent VAC installation.
o Curing plaster and drying of paint in commercial construction.
o Spot heating for personnel and freeze protection for equipment in the event of a plant shutdown.

Painted Carbon Steel construction ensures weather resistance, with stainless steel available for extreme environments. In addition, all electrical enclosures are easily accessible and are protected to NEMA 4 construction. A multi-stage, contactor-based control system provides accurate temperature control, with an option for SCR power control. High limit temperature control and low limit airflow control ensures proper safety during operation. The units are stackable to minimize storage space requirements.

For more information, go to www.chromalox.com or contact Chromalox at:
Toll Free: 800-443-2640
Phone: 412-967-3800
Fax: 412-967-5148
Internet: www.chromalox.com
Address:
103 Gamma Drive Ext.
Pittsburgh, PA 15238

About Chromalox, Inc.
For more than 85 years, customers have relied on Chromalox for the utmost in quality and innovative solutions for industrial heating applications. Chromalox manufactures the world's largest and broadest line of electric heat and control products, including heating components, immersion heaters, circulation systems, heat transfer systems, boilers, industrial and comfort air heating, heat trace cables, sensors and precision electronic controls. With multiple manufacturing, engineering, warehousing and sales locations throughout North America and Europe, Chromalox is a global supplier providing the highest level of customer support. Chromalox is headquartered in Pittsburgh, PA.

Products and company names listed herein are trademarks or trade names of their respective companies.

Contact:
Christopher Molnar
Chromalox, Inc.
412-967-3800
christopher.molnar@chromalox.com

or

Barbara Lee
Chromalox, Inc.
412-967-3800
barbara.lee@chromalox.com


More from Communication Systems & Equipment