Agricultural Tire suits large combines and grain carts.
Press Release Summary: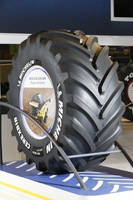 Featuring 486 in.² footprint, MICHELIN® VF520/85R42 CFO 177A8 CerexBib™ Tire offers load capacity up to 21,960 lb. Very High Flexion tire is built with Michelin Ultraflex Technology, which enables operation at up to 40% lower air pressure than standard radial tires. Large tread footprint provides optimized traction in all conditions, while casing with reinforced sidewalls extends service life, even at low pressure.
---
Original Press Release:

MICHELIN AG Launches New CerexBib Tire for Large Harvesting Equipment



GREENVILLE, S.C.,  -- Today at the 2016 Commodity Classic, MICHELIN® Agricultural Tires introduced the new MICHELIN® VF520/85R42 CFO 177A8 CerexBib™ tire. Michelin's Very High Flexion (VF) tires include a class of agricultural tires designed to handle bigger and heavier farm equipment that has a greater ability to flex under increased loads than standard radials. Designed expressly for large combines and grain carts, the new CerexBib is one of the first true VF tires for today's heaviest harvesting equipment.



CerexBib, now available at Michelin Ag tire dealers in the Unites States and Canada, offers a more comfortable ride because it:



--  functions at a lower pressure,

--  provides improved traction in all conditions because of the larger tread footprint,

--  delivers excellent service life (even at low pressure) because of a casing with reinforced sidewalls and

--  is better for on-road travel because it enables farmers to use a narrower tire to carry the load.



"This new CerexBib offers a massive load capacity, up to 21,960 pounds, and has a giant footprint of approximately 486 square inches," said James Crouch, Michelin farm segment marketing manager. "It is built with Michelin Ultraflex Technology, which enables tires to operate at up to 40 percent lower air pressure than standard radial tires. This results in a considerable reduction of ruts and compaction, and higher yield potential."



The new MICHELIN® BibLoad™ Hard Surface backhoe tire for use on asphalt and other hard surfaces, introduced last season, will also be showcased in Booth #2408 at the show which is scheduled for March 3-6. This tire features a non-directional tread design to provide superior tread life when used in hard surface applications.



About Michelin

Dedicated to the improvement of sustainable mobility, Michelin designs, manufactures and sells tires for every type of vehicle, including airplanes, automobiles, bicycles, earthmovers, farm equipment, heavy-duty trucks and motorcycles. The company also publishes travel guides, hotel and restaurant guides, maps and road atlases. Headquartered in Greenville, S.C., Michelin North America (www.michelinman.com) employs more than 22,750 and operates 20 major manufacturing plants. For more information on Michelin Ultraflex tires, visit www.MichelinAg.com or contact your local Michelin Agriculture tire dealer.



CONTACT: Mary Ann Kotlarich, Michelin North America, 864.458.4884,  Mary-ann.kotlarich@us.michelin.com



Web Site: http://www.MichelinMedia.com

More from Software