AGC Chemicals Americas to Showcase Advantages of LUMIFLON® FEVE-Based Coatings for Exterior Architectural Applications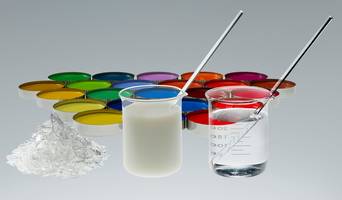 EXTON, Pa., February 1, 2017 - Hongli Wang, Ph.D., Senior Technical Development Engineer with AGC Chemicals Americas Inc., will present on value-added FEVE formulations for high performance powder coatings at the 2017 Waterborne Symposium. Dr. Wang will discuss the exceptional weatherability, corrosion and chemical resistance and environmental benefits of FEVE resin-based powder coatings. AGC's LUMIFLON® FEVE powder coating resins do not require a solvent (VOC) and can be used in formulations to meet the AAMA 2605 specification for high-performance exterior architectural coatings.
In addition, AGCCA will showcase its environmentally friendly waterborne, powder and flake LUMIFLON FEVE resin grades at booth 206. These high performance FEVE resins can be used for various applications including aluminum extrusions for curtain walls and protection of steel bridges.
"Our new powder coating developments focus on creating value by lowering cost, improving coating flexibility and surface quality, controlling coating gloss and producing new formulations to meet customers' needs," Dr. Wang said.
FEVE resins have been used in paints and coatings on building exteriors and facades for more than 30 years. Topcoats formulated with FEVE-based resins offer outstanding gloss and color retention and protect metal and concrete structures from corrosion. When used on buildings, bridges, aircraft, automobiles, water towers and solar panels, FEVE-based topcoats do not degrade from UV light, wind, or rain and can be formulated to last 30 years or more. FEVE resins are available for almost any type of coating, including solvent-based, powder, environmentally friendly low-VOC and HAPs-free coatings, and water-based coatings.
About The Waterborne Symposium
From its inception, The Waterborne Symposium has been organized and executed by faculty, staff, and students of the School of Polymers and High Performance Materials at The University of Southern Mississippi. Funds received are used for academic program development, including graduate student stipends, junior faculty development, equipment acquisition and maintenance, and especially, scholarships for undergraduate students majoring in Polymer Science and Polymer Science & Engineering, most of whom enter the coatings or related polymer industries upon graduation. The 2017 Waterborne Symposium will be held February 19-24 in New Orleans. www.waterbornesymposium.com
About AGC Chemicals Americas, Inc.
AGC Chemicals Americas, Inc. is a wholly owned subsidiary of Asahi Glass Company Ltd., a $13 billion multinational corporation and one of the world's largest manufacturers of glass, electronic displays and chemical products. The company was formed in 2004 through the merging of sister companies Asahi Glass Fluoropolymers USA and AGA Chemicals. Headquartered in Exton, Pa., AGC Chemicals Americas maintains manufacturing operations in nearby Thorndale, Pa., and warehouses located throughout North America. www.agcchem.com
Contact This Company Download Spec Sheet
More from Adhesives & Sealants