Motion Sensors / Detectors / Transducers
ADLINK Offers Latest Intrusion Detection and Prevention Systems for High-End Application Scenarios
Press Release Summary: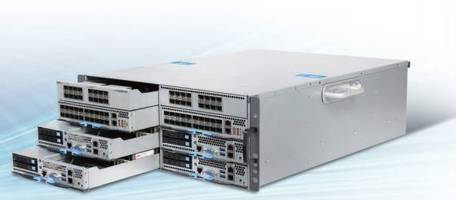 The Intrusion Detection and Prevention Systems from ADLINK come in interconnected, redundant module design and hot swap support for CSA-7400 platform. These systems are designed for scenarios like core networks for operations, cloud computing, large enterprises, and data centers. The CSA-7400 platform is built on the Open Compute Carrier-grade Edge Reference Architecture and features parallel computing and computing density and high throughput capacity. The IDS/IPS systems now offer more reliable and stable solution for network security market.
---
Original Press Release:
ADLINK Helps NSFOCUS Build Next-Generation 100G+ Grade Intrusion Detection and Prevention Systems that Offer Safer, More Reliable and More Stable Solutions to Carriers
Designed to deliver high performance, high density and high scalability, ADLINK's CSA-7400 enables customers to build solutions that meet the demands of high-end application scenarios such as core networks for operations, cloud computing, large enterprises, and data centers
SAN JOSE, CALIF. (PRWEB) AUGUST 16, 2018 - ADLINK Technology, Inc., a global provider of advanced Edge Computing products, has announced availability of a next-generation 100G+ grade intrusion detection systems (IDS) and intrusion prevention systems (IPS) offering using ADLINK's high performance CSA-7400 network security appliance. Developed by NSFOCUS, a leading provider of enterprise-level network security solutions and services with dual headquarters in Beijing and Santa Clara, California, the IDS/IPS offering is designed to provide a safer, more reliable and more stable solution than is currently available in the network security market. An application story jointly published by ADLINK and NSFOCUS is currently available to provide additional details on the solution.
Network security challenges have become increasingly serious with the evolution from Internet era to IoT era. Not only has the number of organized, premeditated attacks across all networks increased, but the form of cyberattacks has become more complex and more advanced. In this new age of network security, the roles of the IDS and IPS are gaining increasing importance with their continuous development and innovations. Emerging, sophisticated security solutions have significantly raised the bar for computing platforms upon which these systems are built.
"With our expertise in attack prevention developed over the years, this in-depth collaboration with ADLINK enables both parties to build IDS/IPS products meeting the demands of high-end application scenarios such as core networks for operations, cloud computing, large enterprises, and data centers. The interconnected, redundant module design and hot swap support for both computing nodes and switches of the CSA-7400 platform from ADLINK offer users uninterrupted delivery service," said Dr. Yang Chuan-An, NSFOCUS chief architect. "NSFOCUS' NIPS products are equipped with various advanced technologies, such as the NSFOCUS global threat intelligence system and NSFOCUS unknown threat detection, which can demonstrate better protection on the CSA-7400. In the future, NSFOCUS will continue close collaboration with ADLINK for its IDS/IPS products to maximize the effectiveness of the excellent features of NSFOCUS' NIDS/NIPS products on the CSA-7400 platform for the network security market."
By leveraging more than 20 years of expertise in developing highly reliable and available embedded computing systems, ADLINK is a premier supplier of COTS/ODM solutions to worldwide tier-one TEMs and network security integrators. Featuring high throughput capacity and I/O density, parallel computing and computing density, carrier-grade high availability, and support for standardized API management, ADLINK's CSA-7400 platform meets the stringent requirements for network security systems and enables NSFOCUS to develop its brand new, innovative NIDS and NIPS intrusion protection solutions to help its customers effectively monitor for, detect, and prevent any challenging attacks.
"The CSA-7400 is a next-generation, high performance, carrier grade COTS network security platform built on the Open Compute Carrier-grade Edge Reference Architecture (OCCERA) by ADLINK, integrating network interfaces, switches, and overall computing capacity. The open hardware architecture and platform scalability of the CSA-7400 support NSFOCUS' next-generation 100G+ ISD/IPS solutions, allowing NSFOCUS to launch its high-performance NIDS/NIPS products for the network security market," said Julian Ye, ADLINK director for networking and communications. "The CSA-7400's flexibility and configurability enables cross-business product deployment and easy integration to other high-end network security markets, such as next-generation firewalls, telecommunications, and multi-access edge computing. In addition to hardware features, the API library provided by ADLINK allows security solution providers to focus on their core competence, enhance business migration, increase product efficiency, and shorten product launch and delivery cycles."
ADLINK offers design services in every major geographic region, benefiting customers with increased responsiveness, short delivery lead-time and ease of doing business. In addition, ADLINK ensures best practices in product obsolescence and lifecycle management by leveraging its long-standing strategic partnerships with major processor and software vendors.
For more information about NSFOCUS' advanced solutions and ADLINK's CSA-7400 platform, please download the application story.
ABOUT ADLINK 
ADLINK Technology is a global leader in Edge Computing. Our mission is to facilitate the use of advanced technologies to help optimize the business performance of our customers. We provide robust boards, platforms and user interfaces; real-time data connectivity solutions; and application enablement for state-of-the-art industrial computing, such as machine learning via AI-at-the-Edge. Together, these also enable innovative end-to-end IoT solutions in support of operational excellence or new revenue streams. ADLINK serves customers across vertical markets including: manufacturing, networking and communications, healthcare, infotainment, retail, energy, transportation, and government and defense.
ADLINK has a growing eco-system of industry leading technology partners; we are a Premier Member of the Intel® Internet of Things Solutions Alliance, a strategic embedded partner of NVIDIA, and an active contributor in many standards and interoperability initiatives, including Eclipse, ETSI, OCP, OMG, OpenFog, PICMG, ROS-I and SGeT.
ADLINK's products are available in over 40 countries, either directly or through our worldwide network of value-adding distributors and systems integrators. ADLINK is ISO-9001, ISO-14001, ISO-13485 and TL9000 certified and is publicly traded on TAIEX (Stock Code: 6166).
For more information, please visit: http://www.adlinktech.com
ABOUT NSFOCUS 
NSFOCUS is committed to tracking the latest trends in network security vulnerability research around the world, continually extending vulnerability analysis, mining, and engineering technology to enhance the technical standards of IDS/IPS, anti-DDoS, malware, and attached behavior analysis and detection. Furthermore, NSFOCUS spares no effort to actively engage in the research and development of cloud security and virtualization security, software as a service (SaaS)-based security services, security measurement, security reputation, and security intelligence.
Over the past two years, NSFOCUS Security Labs has published integrated reports on trends in security threats, next-gen security architectures, IPv6 security research, and security for industrial control systems. As of the end of 2017, NSFOCUS has published 96 notices on security vulnerability research and assisted Microsoft, Cisco, and Oracle on the discovery and resolution of over 94 security vulnerability problems, making it an important contributor to the national vulnerability database. The NSFOCUS Vulnerability Database (NSVD) is the leading Chinese vulnerability database in China.
For more information, please visit: https://nsfocusglobal.com/.
Contact Information
PR Manager
ADLINK Technology
http://www.adlinktech.com
+1 4083600200
More from Packaging Products & Equipment