Adhesive targets in-vitro diagnostic devices.
Press Release Summary: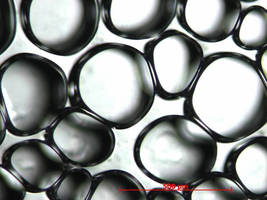 ARcare® 92205 hydrophilic porous pressure-sensitive adhesive transmits fluids or gases while bonding filters and membranes within devices. Pores range from 200-500 microns in diameter and present 30%-50% porosity with finished film thickness of 2-8 mil. Offering stable pore structure of isolated channels in Z-axis direction, adhesive transfer film helps guide aqueous fluids evenly from layer to layer and is available in rolled transfer or coated film formats.
---
Original Press Release:

Adhesives Research Introduces ARcare® 92205 Hydrophilic Porous Pressure-Sensitive Adhesive for In-Vitro Diagnostic Devices



GLEN ROCK, Pa. (March 9, 2009) - Adhesives Research, Inc., a leading developer and manufacturer of custom pressure-sensitive adhesive tapes, specialty coatings, films and laminates, introduces ARcare® 92205, an innovative hydrophilic porous pressure-sensitive adhesive (PSA) technology that increases device functionality by rapidly transmitting fluids or gasses while bonding filters and membranes within in-vitro diagnostic devices.

ARcare® 92205 is an adhesive transfer film that offers a stable pore structure of isolated channels in the Z-axis direction to guide aqueous fluids evenly from one layer to the next to prevent spread that can affect test accuracy. The adhesive's pores are uniformly distributed, open cells that create a low-density, highly permeable structure. The pores range in diameter from 200 to 500 microns and present 30%-50% porosity with a finished film thickness of 2-8 mils. The hydrophilic porous PSA is available in rolled transfer film or coated film formats on a wide range of substrates; and the physical properties of the adhesive can be completely customized to each unique application.

The hydrophilic porous adhesive's ability to facilitate the free exchange of fluids or gases can support many in-vitro diagnostic applications where conventional PSAs previously have not been used. As device developers continue to evaluate methods for increasing assay sensitivity while reducing device complexity, reaction times and overall costs, hydrophilic PSA technology may be used in:

Bonding filters and advanced separation materials for cost-effective sample preparation methods.

Coupling multiple layers of membranes or filters in lateral- and vertical-flow devices to increase reaction speed and accuracy.

Enabling the design of hybrid systems that combine the ease-of-use of lateral flow devices with the speed and sensitivity of vertical-flow devices.

Facilitating uniform gas exchange through porous seals in microplate applications.

Ventilating seals in microfluidic devices that release vapors or gasses while prohibiting fluid flow.

Flexible and conformable, the hydrophilic porous PSA demonstrates all the desirable properties and manufacturing efficiencies of conventional PSAs including continuous roll-to-roll manufacturing and simplified handling of small die-cut, multi-laminate structures. The adhesive forms instant bonds to materials such as films, membranes, pads, filter elements or plastic parts without curing or clamping. The stable pore structure retains its physical dimension and resists crushing, closing and collapsing when exposed to normal manufacturing handling and laminating processes.

In addition to ARcare® 92205 hydrophilic adhesive technology, Adhesives Research is developing hydrophobic porous technology for wound care applications, and acrylic porous technologies that can withstand exposure to excipients and enhancers used in transdermal drug delivery.

Adhesives Research is one of the world's leading independent developers and manufacturers of high-performance pressure-sensitive adhesives, tapes, specialty coatings, films and laminates. Founded in 1961, Adhesives Research offers problem-solving capabilities and custom solutions in adhesive polymerization, mixing, adhesive coating and release liner design supported by extensive product development and analytical support. The company's North American and Limerick, Ireland facilities are certified to the updated ISO 9001:2000 standard.

Adhesives Research's pressure-sensitive adhesives are used around the world in medical diagnostics and devices, wound care, and pharmaceuticals/transdermals, as well as in electronics, displays, wireless telecommunications, window fabrication, and the pulp and paper industry. Based in Glen Rock, Pennsylvania, Adhesives Research also operates manufacturing facilities in Ireland and Colombia, has sales and marketing offices in Germany, Great Britain and Singapore, a representative office in Shanghai, China and sales representation in Japan, Korea and Taiwan.

For more information on Adhesives Research and its products, call 1-800-445-6240 (1-717-235-7979 outside North America) or visit our website at www.adhesivesresearch.com.

Adhesives Research® is a registered trademark of Adhesives Research, Inc., for engineering and design services in the field of pressure-sensitive adhesive systems.