Adhesive Melters use intuitive graphic controls.
Press Release Summary: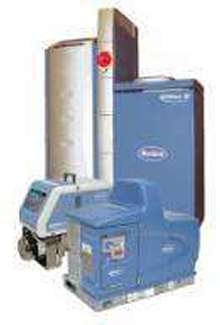 ProBlue(TM) melters are offered in 4, 7, and 10 L tank sizes with piston-pump technology. All-electric DuraBlue(TM) melters incorporate fixed-speed AC motors and gerotor gear pumps and are available in 4, 10, 16, 25, 50, and 100 L sizes. VersaBlue(TM) melters feature spur gear pumps with variable speed AC drives. They are available in 12, 25, 50, and 100 L sizes. All lines have status indicators for system and temperature monitoring and disposable filters to eliminate routine filter flushing.
---
Original Press Release:

Nordson Introduces Blue Series Adhesive Melters; $10 Million Investment Launches New Dispensing Technology in Just Over Two Years


DULUTH, Ga., Oct. 16 /PRNewswire-FirstCall/ -- Nordson Corporation (Nasdaq: NDSN) will rollout a family of new products consisting of three complete lines of adhesive melters. The Blue Series(TM) melters, a $10 million product development initiative that teamed Nordson engineers worldwide, will be introduced for the first time to attendees at the PMMI Pack Expo 2002 trade show in Chicago, IL, November 3-7, 2002 in booth S-847.

The Blue Series(TM) product line includes ProBlue(TM), DuraBlue(TM) and VersaBlue(TM) melters. Each product line incorporates new Nordson technology to deliver superior flexibility reliability, durability and performance in packaging, product assembly and nonwovens applications. All three lines of melters use intuitive graphic controls to eliminate complicated programming and status-at-a-glance indicators for system and temperature monitoring. Patented disposable filters eliminate routine filter flushing, and easy access to internal melter components simplifies routine maintenance.

ProBlue melters are available in 4, 7 and 10-liter tank sizes and feature reliable piston-pump technology. And since the melters are 20 percent smaller size with a 50 percent smaller service envelope, they will fit virtually any production line. All service can be performed from the front of the melter, simplifying installation and daily operations. A large tank opening with 3-sided access and expandable hose and gun capability minimize operator error, adhesive usage and changeover time. ProBlue melters are also compatible with most previous-generation Nordson hoses and guns.

All-electric DuraBlue melters incorporate fixed-speed AC motors and gerotor gear pumps delivering low-pressure output for easy-to-operate, low-maintenance packaging productivity. DuraBlue melters are available in 4-, 10-, 16-, 25-, 50- and 100-liter tank sizes and are compatible with current Nordson electric guns.

VersaBlue adhesive melters deliver superior performance in high-volume, high precision applications like beverage and sift-proof packaging. These melters feature spur gear pumps with variable speed AC drives for precise adhesive add-on weights. VersaBlue melters are available in 12, 25, 50 and 100-liter tank sizes.

Nordson Corporation is the world's leading producer of precision
dispensing equipment. Nordson systems apply adhesives, sealants and coatings to a broad range of consumer and industrial products during manufacturing operations, helping customers meet quality, productivity and environmental targets. The company also manufactures technology-based systems for curing and surface treatment processes. Headquartered in Westlake, Ohio,
Nordson has direct operations in 31 countries worldwide.

Contact: Bruce Waffen
Phone: 440-414-5610
e-mail: bwaffen@nordson.com