Adapter allows prototyping of BGA ICs.
Press Release Summary: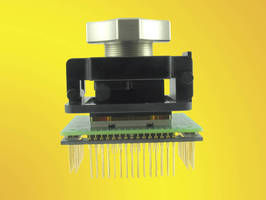 Constructed with gold plated solder-tail machined pins, PA-BGA117C-P-S-01 prototyping adapter interfaces 117 position 0.075 in. pitch BGA SMT land pattern to 0.100 in. center pin grid array. Clam-shell spring pin ZIF socket, SS-BGA117C-01 can be used with adapter for access to address and data lines. Socket operates at bandwidths up to 10 GHz with less than 1 dB of insertion loss, and can handle up to 100 W with custom heat sink. Self inductance of contactor is typically 0.62 nH/pin.
---
Original Press Release:

BGA Prototyping Adapter with 500K Spring Pin Socket Simplifies Device Test



BURNSVILLE, MN - August, 2009 - Design engineers using 0.075" pitch 117 position BGA ICs will be interested in the release of PA-BGA117C-P-S-01 prototyping adapter from Ironwood Electronics. This new adapter release is a part of Ironwood Electronics' high performance prototyping adapter product line that allows quick prototyping of BGA ICs. A clam-shell spring pin ZIF socket (SS-BGA117C-01 sold separately) can be used with the prototyping adapter which provides easy access to address and data lines and simplifies IC swap out. This adapter interfaces the 117 position 0.075" pitch BGA SMT land pattern to a 0.100" center pin grid array (PGA). PA-BGA117C-P-S-01 is constructed with gold plated solder-tail machined pins for maximum reliability when the adapter is plugged into a receptacle or soldered down to PCB. Optionally, the adapters can be supplied with wire-wrap pins so the prototype can be built on very inexpensive wire-wrap panels.

The SS-BGA117C-01 operates at bandwidths up to 10 GHz with less than 1dB of insertion loss. The sockets are designed to dissipate up to several watts without extra heat sinking and can handle up to 100 watts with custom heat sink. The self inductance of the contactor is typically 0.62nH per pin. The socket connects all pins with 10+ GHz bandwidth on all connections to the proto adapter.

The SS-BGA117C-01 is constructed with high performance and low inductance Spring Pins (pogo) with 500,000 insertion capability. There is 30 grams of force on each ball when IC is inserted and lid is actuated. The temperature range is -40 C to +150 C. Current capacity on each contactor is 4 amps at ambient temperature. User simply drops in BGA chip, turns screw, and start testing.

The PA-BGA117C-P-S-01 (BGA prototyping adapter) is available immediately at $190.00 each at quantity 1-10 and reduced pricing available on higher quantities. The SS-BGA117C-01 (Clamshell spring pin BGA socket) is available immediately at $1288.00 each at quantity 1-10 and reduced pricing available on higher quantities.

Feel free to call or email if you have questions.

Ila Pal

Vice President of Marketing

Ironwood Electronics

Phone: 800-404-0204

Email: ila@ironwoodelectronics.com

Skype: ila.pal

Twitter: http://twitter.com/ironwood_elect

Linkedin: http://www.linkedin.com/pub/ila-pal/10/179/691

More from Communication Systems & Equipment