Actuator meets needs of high acceleration and speed applications.
Press Release Summary: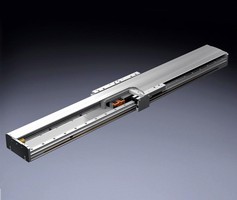 Type GLM20 Linear Motor Positioning Actuator System features water-cooled linear motor and optical linear encoder on lightweight extruded aluminum base. Complete 1-axis system operates at speeds to 4 m/sec and 2 G, achieving accuracies of 1 micron or better while operating at 53 dB. Providing 3,000 N of continuously useable linear force, unit can achieve 4,500 N peak-linear-force. Multiple sliders are installed on single-axis base to allow individual control.
---
Original Press Release:

THK Introduces High Force Linear Motor Positioning Actuator Type GLM20



Schaumburg, IL - (June 29, 2006) New from THK, the GLM20 complete 1-axis positioning system offers the highest acceleration/deceleration, and lowest noise levels, in its class.

The Type GLM20 is capable of operating at speeds up to 4 m/sec. and 2G. THK's GLM20 achieves accuracies of 1 micron average or better. Use of fully closed control with a direct drive and an optic linear encoder achieves high accuracy without motion loss and backlash.

The Type GLM20 provides 3000N (674 lb-f) of continuously useable linear force. A stunning instantaneous peak-linear-force of 4500N (1011 lb-f) is also achieved. Multiple sliders are installed on a single-axis base to allow sliders to be individually controlled. The Type GLM20 is available in strokes of up to 4.4 meters (in a single unit).

The THK GLM20 utilizes THK's patented LM Guide Type SSR with Caged Ball(TM) Technology and achieves a low noise of 53dB during operation at 2m/sec. Incorporating THK patented Caged Technology, this actuator operates with reduced dust generation, low noise and at high speeds.

The new water-cooled linear motor and an optical linear encoder on a strong lightweight extruded aluminum base make this actuator an ideal solution for demanding automated systems applications such as electronics assembly, semiconductor wafer / large LCD production, and robotics where continuous high-acceleration and high-speeds are required without sacrificing accuracy.

THK manufacturers the widest range of linear motion products including conventional LM guides, ball screws, mechanical actuators and ball splines and more. All THK products have been designed and manufactured to meet the strictest requirements. THK's experienced Global Engineering Team can provide customized linear motion solutions with our standard linear motion products as well as our mechatronics products for your most demanding applications.

To learn more, log on to www.thk.com or contact THK America, Inc., 200 E. Commerce Dr., Schaumburg, IL 60173, Phone: (847) 310-1111, Fax: (847) 310-1182, e-mail: chicago@thk.com.

If you want to unsubscribe from receiving all future THK America, Inc. press releases, e-mail Jill Jozwik at jjozwik@goda.com