Acrylic Adhesive targets transdermal patch developers.
Press Release Summary: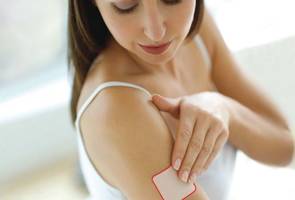 Providing high level of drug solubility for hydrophilic drugs such as nitroglycerin, DURO-TAK® 87-202A is supplied in organic solvent solution. Self-curing, pressure-sensitive adhesive also offer high moisture vapor transmission rate, which contributes to long wear times, especially when used with non-occlusive or semi-occlusive backings.
---
Original Press Release:
New Transdermal Adhesive Enables Higher Solubility of Hydrophilic Drugs
BRIDGEWATER, NJ, December 20, 2006 - A new ultra-hydrophilic acrylic adhesive from the Transdermal Group (www.transdermaladhesives.com) at National Adhesives gives transdermal patch developers an adhesive that is significantly more hydrophilic than standard acrylic pressure sensitive adhesives. The new adhesive, DURO-TAK(R) 87-202A, provides a higher level of drug solubility than traditional acrylic adhesives for more hydrophilic drugs, such as nitroglycerin. Estimated drug solubility can be obtained by consulting National's confidential Drug-In-Polymer Solubility Calculator on www.transdermaladhesives.com. DURO-TAK 87-202A is an acrylic self-curing pressure sensitive adhesive supplied in an organic solvent solution. In addition to its high hydrophilic drug solubility, the adhesive has a high moisture vapor transmission rate (MVTR), which contributes to longer wear times, especially when used with non-occlusive or semi-occlusive backings. "National is committed to providing our customers every adhesive tool on the solubility spectrum so that they can design an optimal patch for their active pharmaceutical ingredient," said Michael Trisch, Global Business Manager, Transdermal Adhesives. "The DURO-TAK 87-202A gives our customers an option on the high end of the hydrophilic spectrum that is not available from any other supplier." For more information on DURO-TAK 87-202A ultra-hydrophilic acrylic adhesive, contact Susan Lydzinski at 908-685-5462; e-mail: susan.lydzinski@nstarch.com, or visit www.transdermaladhesives.com. National Adhesives has been an integral part of the transdermal market since its inception. As the global leader in acrylic polymers for transdermal drug delivery, National's DURO-TAK pressure sensitive adhesives are approved in over 40 unique commercial patches marketed in the Americas, Australia, China, Europe, India, Japan and Korea. National Adhesives has more than 35 years of experience and expertise in acrylic pressure sensitive adhesives, technical service, regulatory support, and manufacturing capability in both North America and Europe. National Adhesives, a unit of National Starch and Chemical Company, offers liquid emulsion, solvent-borne solution and hot melt adhesives to customers worldwide. National Adhesives' products are based on polyurethane, acrylic, rubber, ethylene vinyl acetate, epoxy, polyvinyl acetate and starch and dextrin chemistries. National Starch and Chemical Company, a member of the ICI Group, is a worldwide manufacturer of adhesives, specialty polymers, natural polymers and electronic materials, with 2005 sales of $3.34 billion. National Starch is headquartered in Bridgewater, N.J. For more information about National Starch and Chemical Company and its products, visit www.nationalstarch.com. You also are welcome to visit our on-line newsroom by clicking on the News button. National Starch and Chemical Company is dedicated to meeting the needs and expectations of customers without compromising its commitment to sustainability. National Starch supports sustainability through its continuous efforts to improve the safety, health and environment of the communities in which it operates. For detailed information on National Starch's sustainability program, visit www.nationalstarch.com. All contents Copyright 2006. View Disclaimer All rights reserved National Starch and Chemical Company.
More from Cleaning Products & Equipment