ACE Pulls Out All the Stops - New KISS-205 Selective Soldering System, MLTS Manual Lead Tinning Station Debut at IPC APEX 2012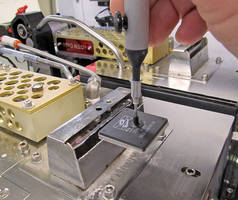 SPOKANE VALLEY, WA -
ACE Production Technologies is "Pulling out all the stops" at Apex 2012, and bringing the best of its newest soldering production technology to the electronics manufacturing industry's premier show, according to Alan Cable, President. "Our new next-generation KISS-205 fully in-line automated Selective Soldering system has never been seen before, so we're excited about its first formal introduction to the industry."

"In addition, we'll be bringing our new Manual Lead Tinning System, or MLTS," Cable adds. "The MLTS is a ground-breaker because it's an affordable way to tin the leads of fine-pitch QFPs without bridging. No more sending them out to be done somewhere else at high cost, with attendant shipping delays and lead times. Now they can be done 'right at home' under house control quickly and reliably and for a fraction of the cost of outsourcing to someone else's expensive machine."

The new systems will be exhibited at IPC/APEX 2012 in Booth #1636. IPC/Apex 2012 Conference and Exhibition takes place February 28 - March 1 at the San Diego Convention Center, San Diego, California.

The new KISS-205, a fully configured In-Line SMEMA-compatible Selective Soldering system effectively splits the process of fluxing, pre-heating and soldering to significantly gain productivity by reducing TAKT by up to 50% vs. incremental processing. "In the KISS-205, a PCB is fluxed and brought to preheat temperature, then sent to the 2nd conveyor for soldering while concurrently applying flux and pre-heating the next PCB," Alan Cable, President, states. "The bottom line result is that the KISS-205 is twice as fast as a conventional machine. Simply stated, the key advantages of the KISS 205 are Speed and Process Control."

Visitors to the booth will also be treated to a demonstration of ACE's new interactive on-line programming, KISS-Ware-OLP; "This powerful software gives the user absolute control over all critical process parameters," Cable says. "It enables user-definable process optimization capabilities not found in comparable competitive selective soldering systems." Designed to provide its users with a more intuitive programming platform, KISS-Ware easily imports PCB assembly data from a variety of sources and assists the programmer in the fast, simple development of a soldering program.