Accurate 79 GHz Radar increases liquid level measurement accuracy.
Press Release Summary: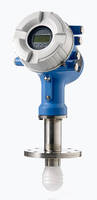 With 79 GHz transmission frequency, Micropilot NMR81 produces sharply focused microwave beam angle of 3° or 4° that ensures safe and reliable measurements without any interfering signals even in narrow tanks with baffles and down to bottom of tall tanks. Measuring ranges reach up to 70 m, and instrument measures up to 30 m with accuracy to ±0.5 mm in custody transfer applications. Product is also equipped with gas-tight feed-through and fulfills all API and OIML requirements.
---
Original Press Release:

First 79 GHz High Accuracy Radar Instrument for Level Measurement in Liquids



Endress+Hauser presents the world's first radar with a transmission frequency of 79 GHz for level measurement in liquids.  The new Micropilot NMR81 for high-accuracy custody transfer applications is certified by independent test authorities to an accuracy of up to ±0.5mm. The sharply focused microwave beam angle ensures safe and reliable measurements without any interfering signals even in narrow tanks with baffles.



Being the technology leader in process instrumentation, Endress+Hauser regularly sets standards in level measurement instrumentation. The new 79 GHz radar is the newest innovation, solving even the most sophisticated level measurement applications in liquids. Micropilot NMR81 utilizes 79 GHz technology to generate a narrow beam angle of 3° or 4°. Measurements are substantially more reliable even in narrow tanks because the radar beam avoids obstacles such as baffles on the tank walls, and is thus unhindered by interfering signals.



Furthermore, measurements right to the bottom in very tall tanks are easier because the beam does not hit the tank walls prematurely. Installation relatively close to the tank wall is possible with the narrow beam angle.  The technology permits very long measuring ranges of up to 70 meters. In custody transfer, the instrument measures up to 30 meters with an accuracy of ±0.5mm.



Custody transfer applications require the highest measurement performance. The American Petroleum Institute (API) and International Organization of Legal Metrology (OIML) recommend an accuracy of 1mm (1/16") for the level instrument under factory calibration conditions, and within 4mm (3/16") for the entire measurement system after installation on the tank. Micropilot NMR81 easily fulfills all API and OIML requirements. Additionally, the antenna is equipped with a gas-tight feed-through. This "second line of defense" is particularly important for handling highly toxic or diffusive products.



For more detailed information on the Micropilot NMR81 23, please visit http://www.us.endress.com/NMR81.



About Endress+Hauser

Endress+Hauser is a global leader in measurement instrumentation, services and solutions for industrial process engineering. The Group employs 13,000 personnel across the globe, generating net sales of approximately $2.4 billion in 2015. Endress+Hauser supplies sensors, devices, systems and services for level, flow, pressure and temperature measurement as well as liquid analysis and measured value recording. The company supports its customers with automation, logistical and IT services and solutions.



Contact: Crystal Hunt, Public Relations Manager

Endress+Hauser, Inc.

Phone: 317-535-1306 (office), 317-439-6426 (mobile) Fax: 317-535-2171

crystal.hunt@us.endress.com

www.us.endress.com

More from Test & Measurement