Accelerometers provide DC acceleration measurement.
Press Release Summary: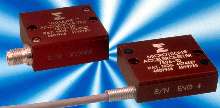 Offered with gas damping and internal overrange stops, VALULINE models 7596A and 7596AM3 withstand shock to 10,000 g's. With a warm-up time of 10 ms and overrange recovery of less than 10 µs, units operate from 8.5 Vdc to 30 Vdc. Model 7596A is equipped with integral cable, while Model 7596AM3 incorporates 6-pin connector and optional temperature sensor output. Units' output drives laboratory instruments without amplification or signal conditioning.
---
Original Press Release:

Model 7596A VALUELINE(TM) Series Accelerometers are Rugged, Low-Cost Solutions for Applications Requiring DC Acceleration Measurement


SAN JUAN CAPISTRANO, Calif. - November 4, 2002 - Endevco's new Model 7596A and 7596AM3 VALULINE accelerometers offer a cost-effective solution for high accuracy, low level acceleration measurements requiring DC response. Featuring gas damping and-internal overrange stops, the VALULINE is able to withstand high shocks (up to 10,000 g's) and acceleration loads. The VALULINE's patented design provides excellent stability, with a warm-up time of 10 ms and overrange recovery of <10 µs. The VALULINE is ideal for laboratory measurements, ground transportation studies and measurements, and modal studies on large structures. The Model 7596A features an integral cable, while the Model 7596AM3 incorporates a 6-pin connector, allowing for cable replacement. The 7596AM3 also provides an optional temperature sensor output for external thermal compensation.

Operating from 8.5 Vdc to 30 Vdc, VALULINE provides a high level, low impedance output that can drive most laboratory instruments, tape recorders and data acquisition systems without amplification or signal conditioning. Endevco Model 136 Three-Channel System, Model 4430A or OASIS Computer-Controlled System are recommended signal conditioners.

Endevco is the world's leading designer and manufacturer of dynamic instrumentation for vibration, shock and pressure measurement. The company's comprehensive line of piezoelectric, piezoresistive, ISOTRON® and variable capacitance accelerometers are used to solve measurement problems in a wide variety of industries including aerospace, automotive, defense, medical, industrial and marine. Other products include pressure transducers, microphones, electronic instruments, and calibration systems.

Endevco has a factory-direct sales force in the U.S. and is represented in the rest of the world by Bruel & Kjaer. Bruel & Kjaer has offices in 55 countries and 7 accredited calibration centers worldwide. Endevco is a subsidiary of U.K.-based Meggitt PLC, an international group of companies renowned for their specialized engineering skills.

More from Materials