Accelerometer Module offers 3 axes in small package.
Press Release Summary: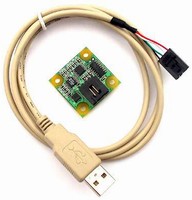 Measuring 1.2 x 1.2 x 0.4 in., PhidgetAccelerometer 3-Axis +-3G module is capable of vibration, tilt, and acceleration sensing. It is designed for quick prototyping and can be used in various applications with its 60 samples/sec bandwidth and 20 mA power consumption. Connected to PC or MAC via USB port, unit supports multiple programming languages and may be controlled through APIs under Windows, Windows CE, Mac OS X, and Linux.
---
Original Press Release:

Phidgets, Inc. Implements a 3-Axis Accelerometer in a Low-Cost Module



Phidgets Inc. has released the PhidgetAccelerometer 3-Axis +-3G. The Accelerometer module provides vibration, tilt, and acceleration sensing. The module is calibrated at the factory and comes ready to use; it connects to a PC or a MAC through the USB port. The product is designed for quick prototyping and can be used in a wide variety of applications.

"In the past users had to use multiple Dual Axis Accelerometers in order to track vibration, tilt and acceleration. We have now made it a lot easier by putting all the required functionality on a single cost effective module" says Chester Fitchett, CEO of Phidgets.

PhidgetAccelerometer Features

Bandwidth: 60 Samples per second
Dimensions: 1.2" X 1.2" X 0.4"
Power Consumption: 20mA
Noise level: 6 milli G.

The accelerometer is controlled through APIs (Application Programming Interfaces) under Windows, Windows CE, Mac OS X, and Linux. The programming languages supported include Visual Basic, VB.NET , C#, C/C++, Flash/Flex, Java, Labview, and Matlab.

Applications

PhidgetAccelerometers can be used in a large variety of applications and projects such as:

Sensing tilt in remote operated vehicles.
Estimating velocity and tracking acceleration in race cars or remote control cars.
Capturing motion input for gaming.
Capturing motion input for Human Interface Research.
Drop sensing for datalogging on shipments
Capturing long term vibration data to help with the analysis of machinery performance.
Detecting movement or presence by measuring structural vibration.

Pricing and Availability

The Accelerometer 3-Axis +-3G module is available now. The suggested resale price is CAD $95.

About Phidgets

Phidgets, Inc. is a technology leader in the design and manufacture of low-cost control and sensing modules connected to personal computers. Phidgets products are ideally suited for fast prototyping. The privately held company is based in Calgary, Alberta, Canada.

Contact Information
Bernard Rousseau
Director of Marketing
Address: Phidgets Inc.
2715A 16A Street S.W.
Calgary, Alberta, Canada
T2M 3R7
Phone: 1-403-282-7335
Fax: 1-403-282-7332
E-mail: bernard@phidgets

More from Computer Hardware & Peripherals