Motion Sensors / Detectors / Transducers
Acceleration Sensor transmits data wirelessly.
Press Release Summary: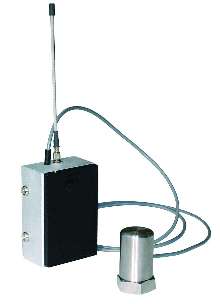 Battery-operated Model SWiNS combines accelerometer and radio transmitter/receiver to measure up to ±98 m/s². Sensors and base unit control sensor data and compose wireless sensor network. All acceleration waveform data from sensors can be stored in HDD of PC. Each sensor is removable and installable from/into network at any time without breaking network and system functions. SWiNS can measure vibration from very low frequency by using MEMS technology.
---
Original Press Release:

SWiNS Wireless Acceleration Sensor


Outlines
The wireless sensor is a small box that has an accelerometer and a radio transmitter-receiver built-in, and sensors and a base unit that controls the sensor data compose a wireless sensor network. The base unit connected to a personal computer (PC) with RS-232C, and it can be operated with the proprietary software on the PC as a base station of the system. All of acceleration waveform data from sensors can be stored in a HDD of the PC.

Features
o Raw waveform data can be transmitted to PC without wiring from sensors.
o Light weight, small physical size and battery-operated.
o It can measure vibration from very low frequency with a high degree of accuracy by using Micro Electronics Mechanical System (MEMS) technology.
o Each sensor works as an autonomous communication node and makes self-assembling into a network of sensors. Intermediate nodes assist distance nodes to reach the base station.
o Each sensor is removable and installable from/into the network at any time without breaking the network and system functions.
o Unnecessary any radio license and approval.

Specifications
o Frequency Range: DC to 500 Hz
o Measuring Range: +/- 98 m/s² (10 G's) peak
o Battery for Sensor: AA Cell x 2 pcs.
o Distance between Sensor to Sensor/Base Unit: Approx. 20 meters (65 ft.)

More from Optics & Photonics