Accelerate Time-to-market with Kontron's Enhanced VPX/OpenVPX Ecosystem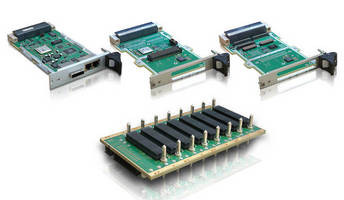 With backplanes, switch, FPGA and PMC/XMC carriers plus IP socket APIs, Kontron provides all core components for VPX system designs

Eching, Germany - Today Kontron announced several additions to its VPX/OpenVPX ecosystem including the Kontron 3U VPX PCI Express and Ethernet hybrid switch VX3905, the Kontron 3U FMC carrier board VX3830, the Kontron 3U XMC/PMC carrier board VX3800 as well as OpenVPX backplanes. With these building blocks, alongside of the new VXFabric IP socket API for data management, Kontron provides a comprehensive VPX ecosystem.

The focus of these additions to Kontron's VPX/OpenVPX ecosystem surrounds the optimization of the data plane in VPX/OpenVPX multiprocessor systems and to relieve OEMs and developers from the complex, low level hardware and data management. This helps OEMs take existing or new HPEC applications to a new level of performance and bandwidth with reduced development efforts and R&D costs.

"After the successful launch of processor boards and switches, we now round off our VPX/OpenVPX ecosystem with hardware and software for the complex task of efficient data flow management in multiprocessor based HPEC systems. We provide a complete system platform solution based on modular building blocks from one location, including pre-validated customizable COTS hardware, comprehensive software and integration services for customers system-level solutions. All this is based on products that offer highest compatibility, reliability and longest product life cycles by design and is complemented by Kontron's specific Long Term Supply service for highest design security of current and upcoming longlife applications", explains Vincent Chuffart, Product Manager at Kontron.

Kontron OpenVPX backplanes
The Kontron OpenVPX backplanes are compliant to the VITA 46.4 specification and provide a high bandwidth PCI Express architecture for the data plane. They are available with a distributed or centralized configuration and enable OEMs to set up nearly all possible system topologies. The distributed backplanes come in a 3-, 4- or 5-slot configuration. The centralized backplane features six payload slots and two switch or storage slots with Gigabit Ethernet on the Control Plane. All VPX boards can be used with these backplanes, including the powerful Kontron 6U VPX dual CPU board VX6060. This approach, allowed by the VPX mechanical standard, provides superior computing power while keeping VPX infrastructure cost as low as possible.

Kontron 3U VPX PCI Express and Ethernet hybrid switch VX3905
The Kontron 3U VPX PCI Express and Ethernet hybrid switch VX3905 is the ideal partner for the centralized backplane to efficiently handle a high bandwidth. It provides up to 24 Ports with 32 lane PCI Express Gen 1 / Gen 2 switching and additional 9 port gigabit Ethernet switching capabilities for the control plane. By this it offers a tenfold increase in I/O bandwidth between computing boards in High Performance Embedded Computing applications compared to VME, unleashing a new kind of applications for data processing platforms used for Radar, Sonar and general image processing.

Kontron 3U FMC carrier board VX3830 and 3U XMC/PMC carrier board VX3800
With the Kontron VX3830 and VX3800 OEMs can easily expand the I/O flexibility of their dedicated VPX systems. The Kontron 3U FPGA Mezzanine Card (FMC) carrier board VX3830 is based on a Xilinx Virtex-5 FPGA and offers enhanced I/O capabilities with high integrated performance logic. The Kontron 3U XMC/PMC carrier board VX3800 is designed to support any standard XMC/PMC mezzanines. It provides one XMC/PMC site, alternately used as a PCIbus 32-bit/66 MHz or as an XMC site with either a x4 or a x1 PCI-Express link to the VPX backplane.

Kontron VXFabric
As the hardware environment is set, OEMs need an efficient solution for inter-board communication. The Kontron VXFabric simplifies this task for VPX/OpenVPX system architectures by a set of ready to use libraries and kernel modules. The highest level of communication bandwidth is achieved through classic Linux and TCP or UDP sockets based on PCI Express physical layer. By decoupling the application software from the low-level silicon management, Kontron VXFabric not only simplifies and accelerates application development but also helps to extend application lifecycles, as it enables migration to upcoming communication standards such as 10G and 40G ETH for the backplane.

Kontron's VPX/OpenVPX ecosystem for developing high-performance and SWaP (Size, Weight and Power) optimized systems, now features all core components and software for a direct start into system development. All Kontron VPX/OpenVPX platforms are available either as standard off the shelf solutions or can be customized to application specific requirements. Through this service, Kontron helps OEMs to speed up their time-to-market and increase overall quality of applications.

As a member of the OpenVPX Industry Working Group, Kontron took an active part in developing the OpenVPX (VITA65) specification, which defines system level VPX interoperability for multivendor, multi-module, integrated system environments. All Kontron VPX products are 100 percent compliant to the OpenVPX specification for highest interoperability, optimizing time to market and total cost of ownership.

Download the whitepaper about Kontron VXFabric here: http://www.kontron.com/VXFabric

For more information on the Kontron 3U VPX PCI Express and Ethernet hybrid Switch VX3905, please visit: http://www.kontron.com/products/boards+and+mezzanines/3u+vpx/switch/vx3905.html

For more information on the Kontron 3U FMC carrier board VX3830 and 3U XMC/PMC carrier board VX3800, please visit: http://www.kontron.com/products/boards+and+mezzanines/3u+vpx/carrier/

For more information on the Kontron OpenVPX backplanes, please visit: http://www.kontron.com/products/systems+and+platforms/vpx+systems+and+platforms/accessories/

For more information on the Kontron VPX Ecosystem please visit: http://www.kontron.com/VPX

About Kontron
Kontron is a global leader in embedded computing technology. With more than 30% of its employees in Research and Development, Kontron creates many of the standards that drive the world's embedded computing platforms. Kontron's product longevity, local engineering and support, and value-added services, helps create a sustainable and viable embedded solution for OEMs and system integrators. Kontron works closely with its customers on their embedded application-ready platforms and custom solutions, enabling them to focus on their core competencies. The result is an accelerated time-to-market, reduced total-cost-of-ownership and an improved overall application with leading-edge, highly-reliable embedded technology.

Kontron is listed on the German TecDAX stock exchange under the symbol "KBC". For more information, please visit: http://www.kontron.com/

Digital image (jpg) and text (PDF): http://www.kontron.com/about-kontron/news-events/accelerate+timetomarket+with+kontrons+enhanced+vpxopenvpx+ecosystem.4506.html

Americas
Richard Pugnier
Kontron
Tel:+1 (858) 623-3006
richard.pugnier@us.kontron.com

Annette Keller
Keller Communications
Tel:+1 (949) 640-4811
annettekeller@sbcglobal.net

All rights reserved.

Kontron is a trademark or registered trademark of Kontron AG.

DIMM-PC®, PISA®, ETX®, ETXexpress®, microETXexpress®, X-board®, DIMM-IO® and DIMM-BUS® are trademarks or registered trademarks of Kontron Embedded Modules GmbH.

Intel and Intel PROCESSOR are trademarks of Intel Corporation in the US and other countries.

PICMG® and COM Express® are trademarks of the PCI Industrial Computers Manufacturers Group. (CompactPCI®, AdvancedTCA®, ATCA®, AdvancedMC(TM), MicroTCA(TM), CompactTCA(TM), SHB Express(TM))

All other brand or product names are trademarks or registered trademarks or copyrights by their respective owners and are recognized.

All data is for information purposes only and not guaranteed for legal purposes. Subject to change without notice. Information in this press release has been carefully checked and is believed to be accurate; however, no responsibility is assumed for inaccuracies.