AC Leak Freeze Pro Sealant Applicator comes with transparent hose.
Press Release Summary: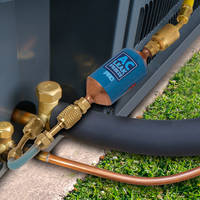 Applied in residential, commercial refrigeration and air conditioning systems, AC Leak Freeze Pro is 11.5" long refrigerant leak sealant applicator. Product consists of flexible and transparent refrigeration hose, attached copper reservoir containing 1.46-ounces of non-polymer, ac leak sealant formula and AC Leak Freeze injector. Product is used with 1.5 to 6 ton systems and comes in blue and green which has lubricant additive.
---
Original Press Release:
RectorSeal® Introduces Safe, Quick and Easy Leak Sealant Injection Method– AC Leak Freeze® Pro
AC Leak Freeze® Pro is the leak sealant formula and applicator combination that's safe for the HVAC/R service tech and the refrigeration system.
RectorSeal® LLC, a manufacturer of quality HVAC/R products,has introduced AC Leak Freeze® Pro, a safe, quick and easy refrigerant leak sealant applicator for residential and commercial refrigeration and air conditioning systems.
AC Leak Freeze Pro is an 11.5-inch-long applicator that consists of a flexible, easy-to-handle, transparent refrigeration hose and an attached copper reservoir, which contain a total 1.46-ounces of the same trusted, non-polymer, ac leak sealant formula as the renowned syringe-based AC Leak Freeze injector. Unlike some other disposable leak sealant applicators, AC Leak Freeze Pro doesn't require a system pump down with R-410A systems and safely withstands all typical refrigerant pressures.
The Pro applicator is designed for use with 1.5 to 6-ton systems and is available with both the blue AC Leak Freeze and green AC Leak Freeze with Magic Frost formulas, the latter which contains a compressor life-extending lubricant additive.
One side of the hose connects to the refrigeration system's low side. The AC Leak Freeze formula is propelled into the system within seconds once the hose's reservoir is connected to either the high side or a refrigerant cylinder via a charging manifold. The disposable, one-time-use, AC Leak Freeze Pro applicator's nylon hose, brass fittings and copper reservoir are all 100-percent recyclable.
AC Leak Freeze Pro is the HVAC/R industry's safest formula for service technician and the refrigeration system. It's proven compatibility flows with refrigerant/oil to permanently seal small leaks and prevent them in the future. The patent-pending refrigerant leak sealant formula is not moisture activated, has a safer flashpoint rating than the competition, and doesn't use polymers that can potentially clog compressors, recovery/evacuation units, Schrader valves, capillary tubes, TXV valves, micro channels or manifold gauges.
Other AC Leak Freeze Pro features are:
hose and reservoir are factory-sealed to prevent injecting air or atmospheric moisture into the system;
the nylon hose's 45-degree connection fitting allows easier hand access than straight fittings in cramped Schrader valve environments;
transparent hose eliminates guess work as to when application is completed;
and four-color boxed packaging designed for distributor J-hook merchandisers.
For more information on RectorSeal and its HVAC/R, plumbing, firestop and electrical products, please visit www.rectorseal.com or contact its customer and technical support departments at 800-231-3345.
About RectorSeal: The RectorSeal® LLC is a leading manufacturer of chemical and specialty products designed for professional tradesmen. Steady growth over the years has been maintained through a commitment to providing high quality products and services. With a diversified business strategy, RectorSeal aggressively pursues new and unique technologies to serve the plumbing, heating, air conditioning, electrical and construction industries. RectorSeal is devoted to providing innovative quality products supported by strong customer and technical service. For more information, visit www.rectorseal.com, email: marketing@rectorseal.com or call (800) 231-3345.
Contact: Jerry Tomasello--Dir. of Mktg.               or                            John Parris Frantz
RectorSeal Corp.                                                                              J.P.F. Communications Inc.
(800) 231-3345                                                                                  (773) 871-2600
jtomasello@rectorseal.com                                                                john@jpfcomm.com
More from Agricultural & Farming Products