AC Filtering Film Capacitors are made of metallized polypropylene.
Press Release Summary: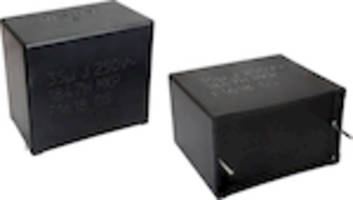 Featuring segmented film, MKP1847H series AC Filtering Film Capacitors provide rated voltages of 250, 310, 350 and 480 VAC. Delivering rated capacitance from 1 µF to 35 µF and ESR below 3 mΩ, unit is suitable for input and output filtering in renewable energy inverters and UPS systems. Products are designed to offer 85 % RH for 1,000 hours and stable capacitance.
---
Original Press Release:
Vishay Intertechnology AC Filtering Film Capacitors Deliver Extremely Stable Capacitance and ESR in High Humidity Environments
Robust Metallized Polypropylene Devices Withstand THB Testing
Vishay Intertechnology, Inc. (NYSE: VSH) today introduced a new series of metallized polypropylene AC filtering film capacitors optimized for high humidity environments. The Vishay Roederstein MKP1847H is the industry's first full-range AC filtering film capacitor series to withstand demanding temperature humidity bias (THB) testing - 85 °C, 85 % RH for 1,000 hours at rated voltage - without altering its electrical characteristics.
The capacitors released today are designed to ensure extremely stable capacitance and ESR values over a long service life under harsh environmental conditions during operation. The robust devices are ideal for input and output filtering in outdoor renewable energy inverters and critical applications such as UPS for sensitive datacenters.
MKP1847H series capacitors feature segmented film and offer rated capacitance from 1 µF to 35 µF and low ESR down to 3 mΩ. The devices provide high ripple current capabilities up to 24.5 A and rated voltages of 250 VAC, 310 VAC, 350 VAC, and 480 VAC.
Samples and production quantities of the MKP1847H series are available now, with a lead time of 10 weeks. Pricing for U.S. delivery only starts at $1.00 per piece.
Resources:
AC filtering film capacitors from Vishay: https://www.vishay.com/capacitors/film/ac-filtering/
Check distributor stock on the Vishay website: http://www.vishay.com/search?query=mkp1847H&type=inv&search-inventory-submit.x=0&search-inventory-submit.y=0
Vishay Intertechnology, Inc., a Fortune 1000 Company listed on the NYSE (VSH), is one of the world's largest manufacturers of discrete semiconductors (diodes, MOSFETs, and infrared optoelectronics) and passive electronic components (resistors, inductors, and capacitors). These components are used in virtually all types of electronic devices and equipment, in the industrial, computing, automotive, consumer, telecommunications, military, aerospace, power supplies, and medical markets. Vishay's product innovations, successful acquisition strategy, and "one-stop shop" service have made it a global industry leader. Vishay can be found on the Internet at www.vishay.com.
Datasheets: http://www.vishay.com/ppg?26067 (MKP1847H)
Contact:
Paul Harrison
Senior MarCom Manager
Vishay Intertechnology, Inc.
Phone: +49-9287-712808
Fax: +49-9287-712809
Email: [email protected]