AC Motor Controllers and Drives
AC Drives include RS485 port for MODBUS RTU protocol.
Press Release Summary: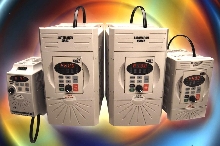 GS1 mini AC drive, with 1/4 to 2 hp, 115 Vac/230 Vac input and 230 Vac output, has 3 to 10 KHz carrier frequency. GS2 micro drive offers 1/2 to 7.5 hp at 230 Vac input/output, or up to 10 hp at 480 Vac input/output, as well as programmable 1 to 12 KHz carrier frequency. Both units offer V/Hz control, 175% starting torque and 150% rated current for 1 min and include electronic-overload protection, stall prevention, and S-curve settings.
---
Original Press Release:
AutomationDirect(R) Introduces New Line Of AC Drives

Cumming, GA --- March 15, 2002 --- AutomationDirect is introducing the GS series of AC drives, a new line designed
specifically for the U.S. market. "This new line was designed with simplicity in mind", says Tim Hohmann, company captain of
AutomationDirect. "We put a lot of effort into making sure the GS
series of drives are simple to program, easy to use, and that they offer simple communications connectivity.

The GS1 mini AC drive features 1/4 - 2 hp, 115 VAC/230 VAC input and 230 VAC output, as well as 3-10 KHz carrier frequency. Four programmable digital inputs and one programmable relay output are also provided. Six GS1 drives are available, ranging in price from $149 to $198.

The GS2 micro drive offers 1/2 - 7.5 hp at 230 VAC input/output or up to 10 hp at 480 VAC input/output, as well as a programmable 1-12 KHz carrier frequency. The GS2 also features programmable analog input and output, six programmable digital inputs, two programmable relay outputs, and dynamic breaking. Twelve different ratings of GS2 drives are available, ranging in price from $188 to $820.

Both the GS1 and GS2 drives offer simple volts/hertz control,
175% starting torque and 150% rated current for one minute.
Automatic torque and slip compensation, as well as DC braking,
three skip frequencies, trip history, and programmable jog speed
are also included. Both also feature electronic overload protection and stall prevention. S-curve settings for acceleration and deceleration are also provided, along with adjustable acceleration and deceleration ramps. An integrated potentiometer or keypad for local speed setting is also provided. The keypad is removable on the GS2 model.

All GS series drives feature a standard RS485 port configured for
the MODBUS RTU protocol, which can easily be networked with
AutomationDirect's family of DirectLOGIC programmable controllers. RS485 connectivity can be used as a low-cost method
of networking multiple GS drives to a DirectLOGIC programmable controller, eliminating the need for additional discrete and analog PLC I/O modules wired to each drive. The flexibility of the three-wire RS485 interface allows for dynamic monitoring of load-critical parameters such as current and voltage, online programming and monitoring of parameter values for speed control, and monitoring of fault status for alarming.

Several accessory options are also available for the GS series
drives, including input fuses, input line reactors, output line
reactors, EMI filters, dynamic braking resistors, and Ethernet
communication modules.

AutomationDirect, previously named PLCDirect, sells over 2,000
feature-packed products through its Online Automation Superstore
and its 1,000-page catalog. The company offers its customers high-quality automation products which are often priced at half the industry average, 24-hour order entry and overnight delivery, the best documentation in the industry, outstanding sales and technical support typically in three minutes or less, and a 30-day money-back guarantee. For a free desk reference, type www.automationdirect.com or call 800-633-0405.

Editorial Contact: Jennifer Gerborg
Phone: 770-889-2858 Ext. 805
Email: jgerborg@automationdirect.com

AutomationDirect now offers the GS series of AC drives. The
GSI mini AC drive features 1/4 - 2 hp, 115 VAC/230 VAC input
and 230 VAC output, as well as 3-10 KHz carrier frequency. Four
programmable digital inputs and one programmable relay output
are also provided. Six GSI drives are available, ranging in price
from $149 to $198. The GS2 micro drive offers l/2 - 7.5 hp at 230
VAC input/output or up to 10 hp at 480 VAC input/output, as wvell
as a programmable 1-12 KHz carrier frequency. The GS2 also
features programmable analog input and output, six programmable
digital inputs, two programmable relay outputs, and dynamic
breaking. Twelve different ratings of GS2 drives are available,
ranging in price from $188 to $820.

Editorial Contact:Jennifer Gerborg
Phone:770-889-2858 Ext. 805
Email:jgerborg@automationdirect.com

More from Controls & Controllers