Abrasive Cutter is optimized for sectioning applications.
Press Release Summary: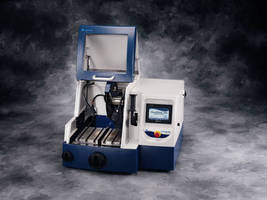 AbrasiMatic® 300 abrasive cutter features 12 in. abrasive cut-off wheel, able to section up to 4.375 in. dia sample, and 5 hp motor that powers through materials such as steel, metal, ceramic, and concrete. Measuring 34 x 27 x 23 in., unit has 2 stainless steel T-slot vice table beds and side hood door that slides open as hood is raised during sample placement. Optional X-Bed adjusts with handle wheel on front of machine, while digital display tracks x-axis travel in 0.1 in. increments.
---
Original Press Release:

Buehler's AbrasiMatic 300 Abrasive Cutter Now Available with Optional X-Bed, Digital Display to Track X-Axis Movement for Precise, Repeatable Cuts



Buehler's optional X-Bed increases operator convenience and consistency in serial sectioning applications.

Highlights/Key Facts

o Moveable X-Bed adjusts cutting table in x-axis direction.

o Digital display tracks x-axis movement.

o Increases operator convenience, enables repeatable cutting precision.

LAKE BLUFF, Ill. - Buehler's AbrasiMatic® 300 abrasive cutter now features the optional X-Bed for increased convenience when sectioning in the x-axis direction. The accompanying digital display tracks x-axis travel, improving precision, consistency and repeatability in serial (parallel) sectioning applications.

Introduced in 2008, the AbrasiMatic 300 is a bench-top cutter featuring a 12-inch abrasive cut-off wheel that can section up to a 4.375" (110mm) diameter sample. A 5 Hp (3.7 kW) motor powers through large and hardened materials, including steel, highly-alloyed metals, coated metals, ceramics, concrete and minerals.

The new X-Bed adjusts using a handle wheel on the front of the machine; operators can quickly and easily position/reposition samples without unclamping them from the table or vice. After making the first cut, operators can then set the digital display to zero. Any subsequent x-axis table movement is then displayed in 0.1-inch increments.

The AbrasiMatic 300 offers four sectioning options: X-axis serial sectioning; manual "chop" style cutting in the z-axis using the manual cutting lever; manual longitudinal y-axis cutting using the y-axis handle wheel and automated longitudinal y-axis cutting using the y-axis motor feed and touch-screen controls. Buehler's unique SMARTCUT system automatically reduces the feed rate to produce burn-free cuts. A pulse cutting mode reduces deformation on difficult-to-cut materials.

Product Manager Quote

"The AbrasiMatic 300, always a leader in its class for cutting capacity, quality and versatility, now offers even greater precision with the addition of the X-Bed and digital readout for x-axis movement. It's capabilities enable it to be used for both production support and laboratory environments."

-Andrea Johnson, product manager, Buehler

Additional Information

Best-of-Class

The AbrasiMatic 300 offers the power, durability and sample-size capacity of some stand-alone abrasive cutters, but in a bench-top design. It measures 34" W x 23" H x 27" D (849mm W x 585mm H x 678 D) and weighs 350 lbs. (165 kg).

The cutting area is separated from the electrical area for total isolation. Two stainless steel T-slot vice table beds accept any standard vices, and two flexible gooseneck halogen lights can be positioned to illuminate any spot in the cutting area. A side hood door slides open as the hood is raised to allow easy sample placement, while a side port accommodates long sample sizes. An innovative basket catches parts after sectioning, while a wash-down hose with shut-off valve enables quick cleaning of the cutting area and vices.

Buehler is the world's premier manufacturer of scientific equipment and supplies for materials preparation and analysis. Buehler's products are used throughout the world in manufacturing facilities, quality laboratories and universities to enable material characterization, ensure quality and perform materials research. For more information, visit www.buehler.com or contact Buehler at 41 Waukegan Road, Lake Bluff, IL 60044 or (ph) 847-295-6500. Buehler is a wholly owned subsidiary of Illinois Tool Works (NYSE: ITW).

More from Electrical Equipment & Systems