Global Positioning Systems (GPS)
Aaronia GPS Logger includes 6 sensors.
Press Release Summary: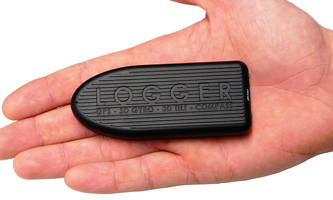 Used for recording position and movements, RF and non-RF applications, Aaronia GPS Logger captures data at rate of up to 35 logs/sec. Designed with 66-channel GPS Sensor and antenna for position accuracy of 6ft, unit delivers velocity measurements of up to 350mph with -165dBm signal sensitivity. GPS Logger is offered with 2GB of microSD data card storage with 650mAh internal LiPo battery and measures 4 x 1.7 x 0.9 in.
---
Original Press Release:
Saelig Introduces GPS-Logger with Gyro/Tilt/Compass and Accelerometer
Six sensors log GPS position, 3D Gyro, digital compass, altitude sensor and acceleration in one compact device
Saelig Company, Inc. announces the availability of the Aaronia GPS Logger - a six-parameter datalogger that has been designed for recording the position and orientation of RF antennas (such as the Aaronia HyperLOG X, HyperLOG EMI, and Magnotracker series) during field investigations. But it is also very useful for a wide range of non-RF applications where position and movement logging is required. The Aaronia GPS Logger includes a total of six state-of-the-art sensors in a very small form factor, with a fast data capture rate of up to 35 logs/second. The tiny (4" x 1.7" x 0.9") logger with its built-in battery weighs just 3oz and fits in the palm of a hand.
Starting up in about 30 seconds, the Aaronia GPS Logger features a 66-channel GPS Sensor with built-in antenna, offering a position accuracy of 6 feet, maximum velocity measurements of up to 350mph, altitude up to 60,000 feet, with a signal sensitivity of -165dBm. The GPS sensor allows for easy collection and documentation of position and elevation. The tilt-sensor and the digital compass capture the inclination and orientation of an object such as an antenna during the measurement process. The 3D/triaxial accelerometer measures g-forces up to 8g with 4mg resolution. Using the GPS-Logger during RF measurements means that these special capabilities can be used to easily create an "RF heat map" including frequency, direction, and strength of an RF source with a 360 degree view.
All sensor data can be captured at up to 35 readings/sec per second on to a microSD card or via USB streaming. The real-time indication of data makes the Aaronia GPS Logger extremely useful for instantly assessing position-variable information. Supplied with 2GB of microSD data card storage and with an internal 650mAh LiPo battery, the logger can record up to two days of full speed data on the card. The data rate can be lowered to allow for weeks or even months of logging time.
Made in Germany by Aaronia AG, Europe's award-winning manufacturer of RF site survey tools, hand held spectrum analyzers, antennas and EMC test probes. The Aaronia GPS Logger is available now with a 10-year warranty from Saelig Company, Inc., technical distributor for Aaronia USA. For detailed specifications, free technical assistance, or additional information, please contact Saelig 1-888-7SAELIG, via email: info@saelig.com, or visit www.saelig.com.
About Saelig Company Inc.
Founded in 1988 in Rochester, New York, Saelig is a North American distributor with a growing reputation for finding and sourcing remarkable, unique test and measurement and control products and components for use in a wide variety of industries. Products lines are continuously added from sources across the globe, and are offered at competitive prices, accompanied by full in-house technical support, exceptional customer service, and fast delivery. For full details of available product lines, please visit www.saelig.com. 
Contact Information
Email: info@saelig.com
Phone / Fax: 585-385-1750 / 585-385-1768
Saelig Company, Inc.71 Perinton Parkway Fairport NY 14450
Related