Industrial / Specific Purpose Computers
6th/7th Gen Intel Core i3/i5/i7 Industrial Touch Screen PC with 7x USB and 2x GbE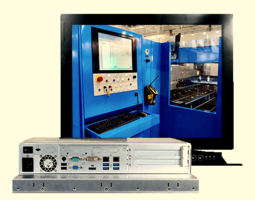 WIN Enterprises' PL-50190 Heavy Industrial Panel PCs are designed for use in extreme environments where ruggedness and durability are important. Built with industrial ruggedness and rich communications capabilities (7x USB and 2x GbE LAN), the PL-50190 ensures a perfect fit for a broad range of challenging environments from manufacturing, healthcare, and military settings. The unit is fully customizable by WIN Enterprises to meet your specific needs.
These rugged, industrial grade computers feature LCD Monitors, VESA & panel-mount options for installation flexibility, 2x 2.5" SATA drive bay options are included for storage, and system tablets are rugged. The unit also provides portable usage and a ruggedness that can stand up to potential damage.
15" 1024x768 TFT LCD Panel with Touch Screen
2 x 2.5" SATA drive bays
1x USB 2.0 at the front panel for easy access; 6x internal USB (4x 3.0 & 2x 2.0)
5-function keys on front panel
VESA & panel mount options
15-Year CPU Life Cycle Support Until Q4' 29 based on the Intel IOTG Roadmap
About WIN Enterprises
Founded in 1991, WIN Enterprises is an ISO 9001 certified product development company that designs and manufactures x86-based embedded systems and motherboards. Units can be designed from the ground up or modified from an existing designs. The Company develops reference designs for leading microprocessor companies, plus customized set-top boxes, rack-mounted appliances, and other products. WIN Enterprises enables cost-effective design, manufacturing, and fulfillment services for corporations around the world. For more information, contact WIN Enterprises at +1 (978) 688-2000 or email WIN at sales@win-ent.com.
Press Contact:
John Hill
Director of Marketing
johnh@win-ent.com
+1 (978) 688-2000 x14