4K Capture and IP Encoder/decoder Cards, multi-display Graphics Cards, H.264 encoders/decoders, Video Wall Controller Cards and Lecture Capture Appliance to be Showcased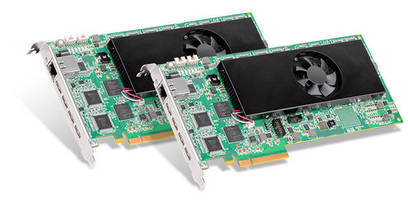 MONTREAL — At InfoComm 2016 (Las Vegas, June 8–10, booth N2047), Matrox® Graphics Inc. will showcase a series of interactive demonstrations featuring Mura™ IPX Series 4K capture and IP encoder/decoder cards, C-Series™ multi-display graphics cards, Maevex™ AV-over-IP encoders/decoders and Mura MPX video wall controller cards. Matrox Video will present the Monarch™ LCS lecture capture appliance.



4K Capture and IP Encoder/Decoder Cards

Matrox Mura™ IPX Series 4K

capture and IP encoder/decoder cards



Matrox Mura IPX Series 4K capture and IP encoder/decoder cards let OEMs and AV system builders deliver advanced video wall controllers featuring high-quality, low-bitrate, multi-channel 4K or HD encoding and decoding over standard IP. Designed to work with Mura MPX video wall capture and display cards and Matrox C-Series multi-display graphics cards, Mura IPX packs 4K capture plus high-density encode and decode functionality onto a single PCIe® card to simplify integration and reduce installation costs. The MURA-IPX-I4DF 4K capture and IP decoder card provides four HDMI inputs for direct high-resolution 4Kp60 or 2560x1600p60 capture plus H.264 decoding of up to two 4Kp60, four 4Kp30, eight 1080p60 or sixteen 1080p30 streams. The MURA-IPX-I4EF 4K capture and IP encoder/decoder card adds H.264 level 5.2 encoding to stream and record content—including video wall sources, displays or regions-of-interest—anywhere on the network.



Multi-display Graphics Cards

Click to enlarge

Matrox C-Series™

multi-display graphics cards



Matrox C-Series multi-display graphics cards deliver outstanding performance, stability, and usability to power video management systems and small-scale display walls in control room, digital signage, enterprise, industrial, security, A/V, and embedded system applications. Matrox C900 is the world's first single-slot graphics card to drive nine 1920x1200 displays for 3x3 and 9x1 configurations. Matrox C680 supports up to six 4K/UHD displays. Matrox C420 is the fastest quad card with passive cooling for increased reliability and silent operation. They come bundled with easy-to-use Matrox PowerDesk™ for Windows® desktop management software.



H.264 Encoders/Decoders

Matrox Maevex™ 2 product line

features PCIe cards, appliances and

OEM hardware software



Matrox Maevex 2 is a full line of line of encoders decodes in a variety of form factors including PCI Express® cards, stand-alone appliances and OEM versions of the hardware and software with APIs and SDKs. Maevex 2 provides Full HD, 4K and 8K extension and switching over standard IP. For enterprise video management systems, Matrox Advanced Hybrid Streaming (AHS) are included. Maximum interoperability with third-party hardware and software is provided for live streaming and recording. Highly adjustable and able to bias for near lossless image quality where needed, the new products include 4:2:0 and 4:4:4 color sampling. With support for the most commonly used streaming protocols (RTMP, RTP, HTTP, MPEG2.TS, RTSP), Maevex 2 is compatible with the current Maevex 5150 series and thousands of third-party hardware and software devices.



Click to enlarge

Matrox Maevex™ 5100 Series

H.264 encoders/decoders



Matrox Maevex 5100 Series H.264 encoders and decoders deliver exceptional-quality AV streaming at low bandwidth over standard IP networks for display or for storage anywhere on the LAN. Maevex encoders can be combined with Maevex decoders or a third-party software decoder to stream up to Full HD AV content to displays and projectors for digital signage, presentation/education, corporate information display, collaborative video wall and many other applications. Maevex is multi-functional in design and can also be used to record desktop sessions to NAS, whether for review or evaluation purposes. Maevex comes bundled with Matrox PowerStream™ software for easy remote device management, stream switching and streaming/recording parameter adjustment, including user-definable bit rates between 100 Kbps and 25 Mbps.



Video Wall Capture and Display Cards

Matrox Mura™ MPX

video wall controller cards



Matrox Mura MPX Series capture and display cards feature universal inputs and high-quality outputs allowing AV integrators, system builders and equipment manufacturers to easily and cost-effectively build custom, high-density video wall controllers with up to 56 HD inputs and 56 HD outputs. Exceptional-quality scaling, switching and compositing of source content including HDCP feeds are easily managed through intuitive software control options including Matrox MuraControl™, third-party software and simple integration with existing AV control systems. Rich transitions and eye-catching effects can be applied to both recorded and live content using the latest Network API—a platform that software developers have used to build their own powerful video wall control solutions for Mura-based video walls.



Lecture Capture Appliance

Matrox Monarch™ LCS

lecture capture appliance



Matrox Monarch LCS is an easy-to-use lecture capture appliance priced at just $2,495 US. It accepts video from any SDI or HDMI camera and presentation content over HDMI from computers. The inputs can be encoded independently and in sync for use with the latest multi-stream video players. Alternatively, the inputs can be combined prior to encoding in a variety of production layouts, including picture-in-picture and side-by-side, for use with standard video players. IT administrators will find Monarch LCS simple to set up and integrate into video management systems (VMS) such as Opencast and Kaltura and learning management systems (LMS) such as Moodle. For streaming purposes, the encoders use either RTMP or RTSP protocol to deliver live streams to local media servers or cloud-based CDNs. In recording applications, the encoders write MP4 or MOV files directly to network-mapped drives, eliminating the need for post-lecture file transfer, or alternatively to local USB drives or SD cards. Monarch LCS comes complete with a comprehensive set of HTTP-based control APIs to create customized user interfaces.



About Matrox

Matrox is a world leader in graphics, imaging, and video technology providing an extensive array of real-world relevant OEM and end-user solutions to businesses and individuals across a diverse range of professional markets, including media and entertainment, finance, digital signage, medical imaging, manufacturing, factory automation, security, government, and enterprise computing. For more information, visit www.matrox.com.



Media Contact:

Janet Matey

Media Relations Manager

Tel: +1 514-822-6037



Matrox and Matrox product names are registered trademarks and/or trademarks of Matrox Electronic Systems, Ltd. and/or Matrox Graphics Inc. in Canada and/or other countries. All other company and product names are registered trademarks and/or trademarks of their respective owners.