High-Pressure Washer provides controlled cavitation.
Press Release Summary: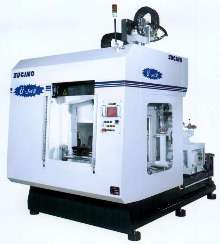 Designed to clean machined parts of cutting fluids and loose chips, U-Jet(TM) III washes up to 6 sides of complex components. Triplex pump produces water pressure to 1,015 psi and delivers it at max flow rate of 13.0 gpm and sonic velocities to 1,100 ft/sec. All washing/cleaning operations are controlled via Mitsubishi PLC controller. Unit incorporates horn nozzle design, and workspace accommodates up to 20 x 10 x 8 in. parts weighing 22 lb max.
---
Original Press Release:
Sugino U-Jet III(TM) Delivers High-Pressure Water with Controlled Cavitation for Superior Cleaning of Critical, Complex-Machined Components
Itasca, Illinois. Washing and cleaning machined parts of cutting fluids and loose chips has always presented problems to manufacturers. Low-pressure wash systems can barely clean cutting fluids or clear parts of loose debris and chips. Medium pressure systems to 500 PSI can cut fluids and flush most other contaminants but are no guarantee against compacted chips that can break loose and cause erratic operation and possibly lead to warranty failure of the component. Building on their extensive experience with high-pressure water-jet cutting and deburring systems and in controlled water-cavitation technology, Sugino has developed the U-Jet III high-pressure water washing system that Sugino National Sales Manager John Fischer reports takes water washing out of the "washboards and river rocks-era" into the 21st century and significantly improves water-washing operations over existing systems. A semi-flexible system that can be adapted to clean a family or similar parts, the U-Jet III is used to wash up to six sides of the most complex components such as machined aluminum cylinder heads, engine blocks, hydraulic manifolds and other critical components where a chip or contaminant could create serious operational problems and warranty issues once in service. The medical industry can take advantage of the U-Jet's ultra-cleaning capabilities for products ranging from hypodermic needles to prosthetic devices. With a triplex pump producing water pressure to 1,015 PSI and delivering it at a maximum flow rate of 13.0 GPM and sonic velocities to 1,100 ft./sec., the U-Jet incorporates Sugino's patented horn nozzle-design to create a controlled cavitation in a washing solution to clean the most complex parts. The part to be cleaned is submerged in the washing solution while the 4-axis PLC-controlled robot directs the nozzle jet precisely into the most complex shapes and cavities. The cavitation created by the nozzle design drives the washing solution through the tightest formation and threadlike -passage with great force and turbulence to remove the undesirable contaminants. "The U-Jet's 1,000+psi water pressure is virtually double all medium-pressure water washing systems," reports Fischer, "but it is the cavitation flow that separates the U-Jet from other water washing systems." While U-Jet III can consistently clean chips and contamination from machined parts to 0.01 mg. contaminate level, actual results have produced parts reported to be "absolutely clean"! All washing/cleaning operations are controlled by a Mitsubishi PLC controller that interfaces all phases of production. The U-Jet III can complete the part processing operation in one set-up. The standard work area can accommodate parts measuring 20" x 10" x 8" and weighing up to 22 lbs. U-Jet machines are available in other configurations to accommodate larger and heavier parts and in applications with component complexity requirements. A higher level of U-Jet technology is available to meet demanding cycle time requirements. U-Jet machines can be integrated directly into a manufacturer's production cell. Depending on the size and complexity of the part, the U-Jet III can run 30 - 100 normal cycles per hour and typically between 250,000 to 500,000 parts per year. As a precautionary measure to protect its vital components from the working environment and extend the service life of the U-Jet III, Sugino isolates the washing/cleaning-area from the machine zone by a stainless-steel barrier, thereby enclosing vital machine components in a protective zone. This feature also eases accessibility for routine maintenance. Standard equipment includes a 200V 3Ph 60Hz electrical system, a 4-axis PLC-controlled robot, an automatic tank filling system, an oil skimmer, a 0.100 wire-mesh chip filter and more. Optional equipment includes a fully programmable Fancu CNC-controlled gantry system, a second clean water tank, automatic part clamping, workpiece detection, a signal tower, a remote start switch, a 460V 3Ph 60Hz electrical system and more. U-Jet III Specifications: Power: 10HP (7.5Kw) Pump Motor Length: 128" Width: 80" Height: 122" Weight: 9,000 lbs. Sugino Corp. manufactures automatic electro-pneumatic, electric, pneumatic and ballscrew CNC Selfeeder® drilling units from ¼ HP up to 7-½ HP, lead-screw Synchro-Tapper® tapping units, CNC Self-Centers(TM) and Self-Units(TM) drill/tap machining centers, 5,000 & 10,000 PSI Jet-Clean® Center high-pressure water deburring systems, U-Jet(TM) high pressure water washing systems and other equipment and systems for metalworking production. For more information, contact: Mr. John Fischer, National Sales Manager, Sugino Corp., 1380 Hamilton Parkway, Itasca, Illinois 60143. Phone: (630) 250-8585 Fax: (630) 250-8665 E-Mail: [email protected] o Web Site: www.suginocorp.com