Burnishing Tools produce mirror-like finish in one pass.
Press Release Summary: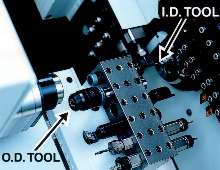 Utilizing steel rollers that cold work metal surfaces, Superoll® burnishing tools offer capability to burnish IDs or ODs of any bored, reamed, or turned workpiece. This produces fine, wear-resistant finish down to 2 µin. or less in one pass. Resulting mirror-like, corrosion-resistant surface is free from irregularities. Precision adjustment feature lets operator adjust Superoll by 0.0001 in. increments.
---
Original Press Release:

Sugino Superoll® Burnishing Tools Process ID and OD Metal Surfaces to a Hardened, Mirror-Like Finish in One Pass; Reduces Machining Time and Equipment Cost up to 90%


Itasca, Illinois. By making use of special rollers that cold work a metal surface, the Sugino line of Superoll® burnishing tools can burnish the inside or outside diameters of any bored, reamed or turned workpiece to produce an extremely fine, wear-resistant finish (down to 2 micro-inch or less) in a single pass: resulting in a mirror-like, smoother, harder surface with better resistance to corrosion than a ground or honed workpiece.

The result can save a manufacturer up to 90% in time and equipment costs compared to conventional methods, such as grinding, honing, lapping and other metal finishing operations, reports Sugino National Sales Manager John Fischer.

Sugino Superoll tools are typically used in burnishing connecting rod bearing surfaces, cylinders, piston housings, shafts, connecting rods and pins, valves and valve seat surfaces, in the critical semiconductor industry, and in any mating surfaces.

Unlike the metal removal process of grinding, honing, lapping and other finishing methods that cut to remove rough machining markings on a part, Superoll uses a plastic deformation-process to cold work the rough metal into a smooth hard surface, free from irregularities. In the burnishing process, the pressure generated by the rollers exceeds the yield point of the softer workpiece material at the point of contact. The result is a small plastic deformation of the workpiece surface material.

As an example, Superoll tools can reduce a 100 to 125 micro-inch machined surface of a workpiece to a 2 to 15 micro-inch finish in a single pass. One pass with a Superoll tool will finish some rough machined surfaces to 0.7 micro-inch, max., with an average of 5 to 10% increase in surface hardness within a depth penetration of 0.010" to 0.030" below the burnished surface.

Superoll burnishing tools are available in standard designs to burnish workpieces with 0.176" to 7.917" IDs and ODs from 0.97" to 2.477". The rollers are a very durable special steel. With an even number of burnishing rollers equally spaced around a tapered mandrel, it enables any operator to make easy and accurate measurements, which, according to John Fischer, "eliminates the need for expensive ring gauges to measure the tool's set diameter."

"Using a Superoll tool, a micrometer is all that is necessary to measure the tool diameter. With the Superoll's precision adjustment feature, an operator can adjust the Superoll by 0.0001" increments in seconds, install it on any shop machine (shown here installed on a Citizen screw machine) and have it in operation in about the same time as it takes to measure the diameter with other roller burnishing tools".

Comparative tests, reports Fischer, show that Sugino Superoll burnishing tools " will last 30% longer than competitive tools in the same environment."

Superoll tools are available for burnishing internal and external diameters of a machined part, for tapered and stepped surfaces, contours, fillets and flat faces, bearing bores and for special applications.

Superoll tools are also available for simultaneously burnishing the inside and outside diameters of machined parts with an 0. D. as small as 0.82" and up to 3.75". The I. D. can range from 0.184" to 6.50".

Special Superoll models that are available include a Superoll for simultaneously processing tapered or stepped internal surfaces, a Superoll for simultaneously processing an internal and flat surface, for an external and flat surface and more.

Superoll tools are available with Morse taper or straight-shank configurations. They can be attached to any Sugino Selfeeder® drill unit and Self-Center(TM) CNC machining centers, or any other standard machining center, boring machine, lathe, drill press, milling machine, automatic screw machine, and other machines. In any burnishing operation, either the Superoll tool or the workpiece can be rotated depending on the customer's machining method.

With the helical-designed tool, the Superoll feeds itself on a drill press during the burnishing process to eliminate the need for with expensive machine operations.

Sugino Corp. manufactures and markets a line of Selfeeder® automated drilling and Synchro-Tapper® tapping machines, Self-Center(TM) machining centers, Jet-Clean® Center high-pressure water-jet cleaning and deburring systems, U-Jet high-pressure washing systems and other metalworking and maintenance equipment.

For more information, contact: Mr. John Fischer, National Sales Manager, Sugino Corp., 1380 Hamilton Parkway, Itasca, Illinois 60143. Phone: (630)250-8585. Fax: (630)250-8665. www.suginocorp.com. [email protected]