Industrial / Specific Purpose Computers
440GX Processing Boards offer 333 MHz DDR SDRAM memory.
Press Release Summary: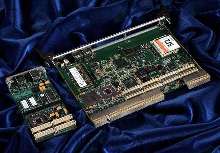 Xpedite(TM)1000 and XChange(TM)1100 offer 333 MHz DDR SDRAM memory coupled with dual Gigabit Ethernet interfaces. Supporting on-chip 133 MHz PCI-X interface, XPedite1000 PrPMC module includes 440GX processor, which delivers 1334 DMIPS processing at 667 MHz and draws 4.5 W of power. XChange1100, with 6U cPCI form factor, offers PICMG® 2.16 or compact packet switch backplane support, auto-sensing system/non-system slot design, dual PCI-X PMC sites, and CompactFlash memory.
---
Original Press Release:

XPedite(TM)1000 and XChange(TM)1100 by XPedite1000 are the First 440GX Processor Boards to Offer High Speed 333MHz DDR SDRAM Memory Coupled with Two Gigabit Ethernet Ports


Madison, Wisconsin, April 3, 2003. Extreme Engineering Solutions' new Xpedite1000 (PrPMC) and XChange1100 (6U, cPCI) both offer a unique combination of high speed 333MHz DDR SDRAM memory coupled with dual Gigabit Ethernet interfaces for high performance military, industrial, storage and telecommunications based applications.

XPedite1000 is the first PrPMC module to meet high performance communications needs with IBM's feature-rich PowerPC 440GX. XPedite's 440GX processor delivers 1334 DMIPS of processing power at 667MHz, while drawing only 4.5 watts of power. Supporting an on-chip 133MHz PCI-X interface, XPedite at least doubles PCI bandwidth over competing products.

In recognition of the hard real-time requirements for varied customer applications, Extreme Engineering has completed board support packages for WindRiver's VxWorks and MontaVista Linux. GreenHills IntegrityOS support is planned for June. Each BSP/LSP has been exhaustively tested to insure easy system integration and is directly supported by Extreme to relieve customers from finger-pointing support (and sometimes it's not a polite finger!). Other RTOS'es will be supported on a per project basis.

Lastly, by designing with cost effective and field upgradeable SO-DIMM's for memory configurations of 128MB to 1GB, Extreme is able to offer lower priced solutions than competing products. Xpedite1000 with 256MB DDR SDRAM and dual gigabit Ethernet interfaces is offered at a price point under $1000 in volume.

XChange1100 expands our 440GX design expertise on a 6U cPCI form factor, adding PICMG® 2.16 or compact packet switch backplane support, an auto-sensing system/non-system slot design that decreases end-customer sparing requirements, dual PCI-X PMC sites for optimal I/O performance, and CompactFlash memory for application storage.

"Several storage and military customers are targeting XChange1100 because it incorporates PCI-X PMC module support. As SCSI, FibreChannel and 64-bit graphics increase I/O bandwidth requirements, PCI-X is necessary to support high performance systems," states Rob Scidmore, President and CEO of Extreme Engineering.

Using the same SO-DIMM strategy, volume pricing for XChange1100 is under $1,500.

About Extreme Engineering Solutions, Inc.
Extreme Engineering was founded in 2002 with the focus of building high performance processor and I/O products within the embedded computer industry. Extreme Engineering's CEO, Rob Scidmore has gathered an extremely talented group of individuals with decades of experience to develop standard and custom products that through creative design practices bridge the price/ performance concerns of the embedded market. This technical heritage has allowed for the combining of state of the art design methodologies and manufacturing techniques to significantly shorten a customers time-to-market. The goal of Extreme Engineering is to offer cutting edge performance and flexibility in design; combining this creativity with an unparalleled level of customer support and service. For further information on products or services, please visit our website: www.xes-inc.com

For additional information, please contact:

Extreme Engineering Solutions, Inc.
7878 Big Sky Dr., Madison, WI 53719
Phone: 608-833-1155
Fax: 608-827-6171
Email: sales@xes-inc.com
Web: www.xes-inc.com


More from Laboratory and Research Supplies and Equipment