3M Announces DK Thermal to Distribute 3M Thermal Interface Materials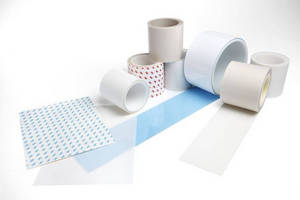 DK Thermal joins growing distributor network to help meet rising demand for thermal interface materials in electronic product design and assembly



Bracknell, UK — 3M, the diversified technology company, has announced that DK Thermal Ltd has become a UK distributor of Thermally Conductive Adhesive Tapes from 3M as part of a growing network of partners focused on addressing the increasing demand for Thermal Interface Materials (TIMs).



3M Thermal Tapes

Thermally Conductive Adhesive Transfer Tapes from 3M provide a fast, simple and effective solution to transfer heat rapidly from electronic components to heat sinks and other cooling devices. The tapes are particularly suitable for use in high power density applications: as devices continue to shrink in size yet become more powerful, the additional heat generated needs to be removed away from components and devices, otherwise performance may be impaired or equipment damaged.



The tapes also provide reliable and flexible strong bonding, which removes the need for additional mechanical fasteners. They are also easy and fast to apply and able to conform to uneven surfaces. In addition, the 3M range features excellent wet-out properties, which helps to support both thermal and mechanical performance.



Says Simon Mitchell, 3M Key Account Manager: "DK Thermal has a reputation as a leading distributor of TIM products in the UK electronics market. What 3M brings to the relationship is a range of advanced thermally conductive tapes that are ideal for a wide variety of applications such as heat sink mounting and thermal management for LED lighting. The tapes are available in a range of options to suit different design demands."



3M offers a full range of Thermal Interface Materials including a broad selection of Thermally Conductive Interface Pads, which through innovative 3M technology provide high levels of conductivity for the more demanding applications in the electronics industry. These soft and conformable pads provide excellent gap filling, low assembled stress and a high degree of wet-out for more efficient heat transfer.



Sample offer

3M is offering application specific samples of its thermal tapes and pads - please contact 3Melectrouk@mmm.com quoting 'TIM sample' along with details of your TIM requirements.



DK Thermal Ltd join existing convertors and distributors of 3M TIM, including Parafix Tapes Conversions Ltd.



About the range

To accommodate the needs of different customers, tapes thicknesses range from 0.13-0.5mm and thermal conductivity up to 1.5W/m-K. All tapes are double-sided and combine high performance acrylic adhesive developed by 3M, with highly thermally conductive and electrically insulating fillers with silicon release polyester liners, paper liners or film liners.



Thermally Conductive Pads from 3M are available in an acrylic or silicone elastomer version and are presented in a variety of thermal conductivities and softness grades. They provide excellent handling and can be die cut to fit most applications.



The range draws on decades of 3M R&D around tapes and adhesives. 3M inventions include Scotch Tape, vinyl electrical tape and the world's first masking tape.



About DK Thermal Ltd

DK Thermal Ltd brings a wealth of experience in thermal know-how, which has been used to conquer heat issues in electronics for many years. Part of the TCL group of companies, DK Thermal has become a thermal specialist in this industry sector, manufacturing metal-based PCBs, as well as supplying and converting thermal interface materials, often presenting customers with full thermal solutions packages.



3M in the Electronics market

3M provides a comprehensive range of solutions for the electronics market in the UK and Ireland, including components for manufacture, packaging and maintenance. Some of the application areas addressed by the product portfolio include OEM, PCB and semiconductor fabrication, plus vertical markets such as medical device technology, industrial automation, test and measurement, consumer electronics, automotive and military/aerospace. Example product platforms include cleaning, cooling and coating fluids, interconnect products, cable assemblies, adhesives, tapes, packaging and static control solutions.



About 3M

3M captures the spark of new ideas and transforms them into thousands of ingenious products.



Our culture of creative collaboration inspires a never-ending stream of powerful technologies that make life better. 3M is the innovation company that never stops inventing. With $31 billion in sales, 3M employs 89,000 people worldwide and has operations in more than 70 countries.



The UK and Ireland is home to one of the largest 3M subsidiaries outside the USA, employing 3,000 people across 17 locations, including nine manufacturing sites.



Products manufactured in the UK include coated abrasives, personal safety equipment, adhesive tapes, industrial microbiology products, drug delivery systems, high-performance coatings, secure documents, passport readers and imaging systems.



For more information, visit www.3M.co.uk or follow @3M_UK on Twitter.



3M, Scotch and 3M logo are trademarks of 3M Company.



More from Packaging Products & Equipment