045 series manufactured in Class 8 clean rooms.
Press Release Summary: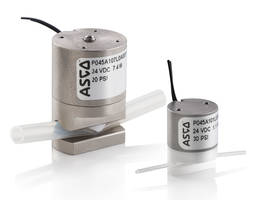 Applied in analytical and medical instruments, 045 series line of Pinch Valves transfers less heat for high protection of liquid media. Product uses low power for operation, gives high vacuum and pressure ratings, is compact in design and can be used with various tubing sizes. Available in ¾", 1", 1 ¼" and 1 ½" sizes and can be custom designed for specialized applications.
---
Original Press Release:
ASCO Introduces O45 Series Pinch Valves with Low Heat Transfer to Protect Liquid Media
ASCO has introduced the 045 Series line of pinch valves for analytical and medical instruments. The valves offer low power consumption and less heat transfer for maximum protection of liquid media.
"The 045 Series valves feature low-wattage solenoid coils with minimal heat generation to ensure the protection of valuable reagents and biosamples," said Robert W. Kemple, Jr., executive vice president, sales and marketing – Americas, ASCO. "This makes them the ideal choice for dialysis, hematology, and surgical fluid management applications."
The new pinch valves are designed with a very small form factor that is half the height of competitive products. This makes them ideal for compact instruments that are used in laboratories and healthcare facilities with limited space. The valves have very good vacuum and pressure ratings, and accommodate a wide range of tubing sizes for excellent versatility.
"ASCO 045 Series valves are supported by the company's Analytics and Medical Technology team, the industry's only group of engineering and application specialists dedicated to serving the analytical and medical industries," said Kemple.
The pinch valves are available in ¾-inch, 1-inch, 1 1/4-inch, and 1 1/2-inch sizes, and are manufactured in Class 8 clean rooms to eliminate contamination. They are available in custom designs for specialized applications.
ASCO 045 Series valves are available as part of the company's Engineered Solutions Program, which cuts the lead times for customized valve and manifold assemblies by up to 50% for the analytical and medical instrument markets.
For more information, contact ASCO at 800-972-ASCO (2726), by e-mail at info-valve@asco.com, or visit www.asco.com.
 About ASCO
ASCO, an Emerson company, offers comprehensive solutions of fluid automation products for a broad range of process and manufacturing industry applications. The company's global scale increases speed to market, its deep expertise across applications transforms ideas into measurable outcomes, and its people create solutions that maximize efficiencies and optimize customer applications. ASCO's fluid control and pneumatic product lines include a full range of solenoid valves, angle body piston valves, valve manifolds, cylinders, filters, regulators, lubricators and a complete range of accessories. For more information, visit www.asco.com.
About Emerson 
Emerson, headquartered in St. Louis, Missouri (USA), is a global technology and engineering company providing innovative solutions for customers in industrial, commercial and residential markets. Our Emerson Automation Solutions business helps process, hybrid and discrete manufacturers maximize production, protect personnel and the environment while optimizing their energy and operating costs. Our Emerson Commercial and Residential Solutions business helps ensure human comfort and health, protect food quality and safety, advance energy efficiency and create sustainable infrastructure. For more information visit Emerson.com.
More from Optics & Photonics