UltraFlex Casting Stainless Steel and Titanium Samples Using Induction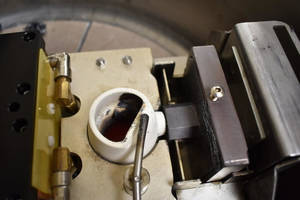 [June 6th, 2019] A test application set recently up by UltraFlex Power Technologies showed how induction casting could be used to cast metallurgical samples out of a variety of powder metal alloys. The objective was to use the samples for x-ray analysis of alloys in the metallurgical industry.
A leading manufacturer of advanced, digitally-controlled induction heating solutions, UltraFlex used their SuperCast Pro induction casting solution in this demonstration. The Supercast Pro systems have been developed specifically for sample preparation and QC testing in research, recycling, foundry or metallurgical facilities. They feature high melting efficiency and speed and are capable of producing up to 12 casting samples per hour in 24 hour operation.
A custom copper mould was designed and produced by UltraFlex team for this application.
The casting was demonstrated using 2 types of material: stainless steel and titanium. In the first case, about 160 g of 316L steel (in two forms: 1. Loose powder; 2. Powder + ingots) had been used. In the second case, 100 g of Ti64Al powder was used, along with a solid 15g Titanium piece to accelerate the process.
It took mere 3 seconds to successfully complete the casting of the titanium alloy. The casting of the stainless steel alloy required less than 20 seconds.
In the casting process, UltraFlex used a built-in vacuum pump and Argon gas circuit with programmable vacuum/argon washing cycles. Thanks to the patented rotating coil system, where the coil rotates with the arm and mould, the metal was kept in liquid phase during the injection.
This time- and energy-efficient alloy casting process could be performed both using automatic or manual control. The Supercast Pro induction casting system was easy and safe to operate with.
Find out more at:
Contact us at:
+1.631.467.6814
uptnews@ultraflexpower.com
About UltraFlex Power Technologies:
UltraFlex Power Technologies (ultraflexpower.com) offers the most advanced and innovative digitally controlled induction heaters in the industry. Its compact modular and flexible systems are suitable for a wide variety of induction heating, casting and melting applications.