Ultraflex Brazing Copper Pipes in Less than 60 Seconds Using Induction Heating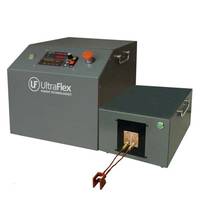 [April 6th, 2018] A recent demonstration set up by UltraFlex Power Technologies aimed at evaluating whether copper t pipes could be brazed using induction heating, replacing the traditional flame-based pipe brazing.
Two pairs of copper tubes had been used in this demonstration. The first set included a main copper tube of 1.13" (28.70 mm) outside diameter and 1.01" (25.65 mm) inside diameter and riser tube copper of 0.84" (21.33 mm) outside diameter and 0.76" (19.30 mm) inside diameter.
The second set used in the demo consisted of a smaller main copper tube of 0.87" (22.09 mm) outside diameter and 0.77" (19.55 mm) inside diameter and a riser tube copper of 0.62" (15.74 mm) outside diameter and 0.53" (13.46 mm) inside diameter.
The induction heating process was carried out using UltraFlex UltraHeat W 15/150 induction heating equipment with an HS-8 heat station model. The equipment from the UltraHeat W series is cost effective and utilizes the latest switching power supply technology.
Prior to the induction heating, the copper tubes were cleaned and assembled. In the first test, the brazing was done using two preformed allow rings made of wire 0.787mm (0.031") in diameter. The riser and main copper tubes were prefluxed with white braze flux. In the second brazing test, braze paste was used instead of rings.
The induction heating started by placing each of the assemblies in the test coil. At a target temperature of 704° C (1300° F), it took as little as 55 seconds for the alloy to flow and form a joint at the T interface of the bigger tube.
In the second test, where a smaller tube had been used but the target temperature remained unchanged, a brazed joint was obtained in 44 seconds.
In both cases the heating time could be cut even more using a custom coil design.
The two tests proved that UltraFlex induction brazing could successfully replace the traditional flame-base brazing for tubes of different size, with the added benefit of cost and time efficiency.
Check out the photos from demonstration:
[Attached to this news release]
Find out more at:
Contact us at:
+1.631.467.6814
About UltraFlex Power Technologies:
UltraFlex Power Technologies (ultraflexpower.com) offers the most advanced and innovative digitally controlled induction heating technology in the industry. Its compact modular and flexible systems are suitable for a wide variety of induction heating, casting and melting applications.