UltraFlex Brazing Carbide onto a Steel Piece in Under 20 Seconds Using Induction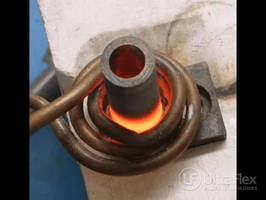 [April 18, 2019] A recent demonstration by UltraFlex aimed at showing how induction heating can be used to optimize the process of brazing carbide onto a steel piece.
The company - a leading manufacturer of innovative digitally-controlled induction heaters - used a 5 kW compact induction heating system from their UltraHeat SM series in this test application. UltraHeat SM heaters are easy to tune to a variety of loads and coils and operate with either water-cooled or air-cooled remote heat station. A custom induction coil having 2 helical turns of 20 mm internal diameter and 1 planar turn of 40 mm outside diameter and 13 mm height was created for this test application.
The parts to be brazed included a carbide tube with 13 mm outside diameter and 3 mm wall thickness and a steel piece with 20 mm outside diameter and 13 mm inside diameter. UltraFlex aimed at achieving a repeatable process that guaranteed consistent, uniform joints and wetting. Hence, the manual feeding of the alloy was eliminated by using alloy rings, tightly fitting over the center post tube.
The brazing process required target temperature of 1500°F (815°C), achieved by the compact induction heating unit within 14 seconds at output power of 1.88 kW. As soon as the alloy was heated, the brazed piece was cooled off with ambient air. The entire brazing process was completed in as little as 20 seconds.
The usage of induction heating for this brazing ensured high quality and repeatability of the brazed joints. The use of alloy rings, replacing the manual feeding of the alloy, would not only ensure consistent results, but would also cut the alloy material used. Thanks to precise control of the time and temperature, productivity on the line would be greatly increased, compared to torch-based brazing.
Find out more at:
Contact us at:
+1.631.467.6814
uptnews@ultraflexpower.com
About UltraFlex Power Technologies:
UltraFlex Power Technologies (ultraflexpower.com) offers the most advanced and innovative digitally controlled induction heaters in the industry. Its compact modular and flexible systems are suitable for a wide variety of induction heating, casting and melting applications.