UltraFlex Bonding Steel Mesh to Synthetic Wool Using Induction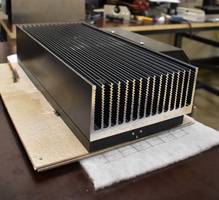 [Dec 04, 2020] In a recent demonstration, UltraFlex showed how induction heating can replace traditional heating methods in yet another manufacturing process, achieving increased productivity and consistent, high-quality results every time, at a fraction of the usual time and costs.
The demonstration had been done per request of a potential customer looking to achieve increased productivity and more reliable results for a bonding process used on the production line.
The demo application required preheating of steel mesh and bonding it to a synthetic wool filter, while those were moving, mesh on top of the filter, on a conveyor line with a variable speed of ~0.1-0.3 m/s. The steel mesh was required to be preheated in only 3 zones, at a target temperature of up to 400 °C (752°F).
An UltraFlex induction heater from the UltraHeat SM series had been considered most appropriate for this heating scenario. UltraHeat SM are compact 5kW induction heaters operating with either water-cooled or air-cooled remote heat station. Thanks to their compact design, they can easily be integrated into a conveyor line. They feature adaptive digital phase control which provides efficient operation in the frequency range required for this heating application.
A flat induction sealing coil was also designed by UltraFlex and used to press the two materials and distribute the temperature to the zones required, as soon as the target temperature had been reached.
It took mere 1.5 seconds to complete this induction bonding process. The bonding achieved was highly reliable since the special induction heating coil prevented the synthetic wool from burning, while at the same time ensuring proper, precise heat distribution at the zones defined.
By replacing traditional heating methods with induction heating, the customer would not only increase productivity on the line. They would ensure consistent, high-quality results that did not depend on the operator's skills. The induction heating process would be completely safe - both for the operator and the environment - due to the lack of open flame, smoke and noxious emissions.
Find out more at: https://ultraflexpower.com/
Contact us at:
+1.631.467.6814
uptnews@ultraflexpower.com
About UltraFlex Power Technologies:
UltraFlex Power Technologies (ultraflexpower.com) offers the most advanced and innovative digitally controlled induction heating equipment in the industry. Its compact modular and flexible systems are used for a wide variety of induction heating, casting and melting applications.
More from Electrical Equipment & Systems