Tregaskiss Offers QUICK LOAD Liners as Standard on TOUGH GUN and TGX Semi-Automatic MIG Guns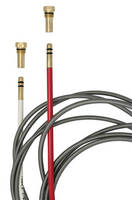 WINDSOR, Ontario - Tregaskiss announced it is making its innovative QUICK LOAD(TM) Liners standard on TOUGH GUN(TM) and TGX(TM) Semi-Automatic MIG Guns as of July 2011. QUICK LOAD(TM) Liners have been standard on all TOUGH GUN Robotic and Automatic MIG Guns since 2010.

QUICK LOAD Liners are installed from the front end of the MIG gun and require less than half the time of a conventional liner replacement. On the first use, the two-piece system requires a liner retainer to be installed inside the power pin. To replace a QUICK LOAD Liner, the welding operator simply removes the front-end consumables (nozzle, retaining head and contact tip) and feeds the liner through the front of the MIG gun and over the wire, using it as a guide. There is no need to cut the welding wire, which can cause unnecessary downtime and costs. Also, because liners trimmed too long or too short can cause serious wire feeding and welding related issues, Tregaskiss provides a liner gauge with every liner, plus installation instructions, to ensure customers trim liners to the correct stick out.

Welding operators can change the QUICK LOAD Liners on semi-automatic MIG guns that are connected to boom mounted feeders without having to climb up to them. Similarly, in robotic applications, the TOUGH GUN Robotic MIG gun does not have to be removed from the wire feeder during the QUICK LOAD Liner replacement, eliminating the need to climb over robotic tooling or transfer systems. Welding operators are able to stay in a safe zone outside the work cell during changeover.

Tregaskiss offers its QUICK LOAD Liners to accommodate wire sizes from .023 to 3/32 inches. These liners are part of the Tregaskiss Common Consumable Platform featuring the TOUGH LOCK(TM) Consumable System. This system includes products that are common across Tregaskiss Semi-Automatic, Automatic and Robotic MIG Guns, and allows users to simplify and reduce their overall welding consumable inventory.

About Tregaskiss

For more information on Tregaskiss Products, call 1-877-737-3111 or fax 1-877-737-2111 (in Canada and USA); write Tregaskiss, 2570 North Talbot Road, Windsor, Ontario, Canada, N0R 1L0; e-mail info@tregaskiss.com; or visit Tregaskiss.com. Outside North America, call +1-519-737-3000 or fax +1-519-737-2111.

Tregaskiss is an industry leader in the development and manufacturing of MIG welding guns and peripherals, and offers its products worldwide. Its brands include TOUGH GUN(TM) Manual, Robotic MIG Guns and Peripherals, TGX(TM) MIG Guns and TOUGH GARD(TM) Anti-Spatter. Tregaskiss is a wholly owned subsidiary of Illinois Tool Works Inc. (ITW), Glenview, Ill. ITW is a diversified multinational manufacturer of highly engineered components, assemblies and systems.


More from Fluid & Gas Flow Equipment