Three Environmental Lights Products Named as Finalists in The LEDs Magazine 2019 Sapphire Awards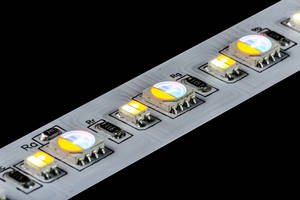 Winners to be announced at the 2019 Sapphire Awards Gala on February 28
January 17, 2019, San Diego, CA – Environmental Lights, a leader in LED lighting solutions, announced that three of its products have been selected as finalists in the LEDs Magazine 2019 Sapphire Awards.
The Sapphire Awards feature exciting product developments across 19 technology categories that represent the entire LED and solid-state lighting (SSL) supply chain. Environmental Lights' products were selected as finalists in two different award categories: Performance 160 Degree Cuttable LED Lattice from Environmental Lights is a finalist in the Specialty SSL Design product category, while HyperFlex 2835 LED Strip Light and 6-in-1 ColorPlus 5050 LED Strip Light are finalists for the Indoor Flex SSL for Coves, Cabinets and Cases product category.
"We are honored to have our products selected as finalists for this prestigious industry award," stated Environmental Lights CEO Jamison Day. "This nomination validates all the hard work our team puts into developing innovative new products," added President Jordan Brooks.
The Sapphire Awards are selected by an independent panel of judges chosen from industry and consultancy roles and are based on a product's unique technology, innovation, ease of use, efficiency and reliability. The Sapphire Awards gala is hosted by LEDs Magazine and will take place on February 28, 2019 at the Mandalay Bay Casino in Las Vegas, Nevada.
Performance 160 Degree Cuttable LED Lattice, HyperFlex 2835 LED Strip Light and 6-in-1 ColorPlus 5050 LED Strip Light are available exclusively on EnvironmentalLights.com or by calling 888-880-1880.
About Environmental Lights
Environmental Lights was founded in 2006 in San Diego, California, and has been listed on the Inc. 5000 as one of the fastest-growing private companies in America for six years in a row. We transform environments with LED lighting technology by engineering our customers' visions into innovative solutions. We partner with our customers from project inception, through planning, specification and installation of their LED lighting systems to ensure we create solutions that match their exact needs. Our work transforms environments in an array of industries including retail display, entertainment, trade show/exhibit, hospitality and casino gaming.
Learn more at EnvironmentalLights.com or by speaking with a sales engineer at (888) 880-1880.
Media Contact:
Michael Krupinsky
Marketing Director
Environmental Lights
marketing@environmentallights.com
More from Electronic Components & Devices