Thousands of Cleats Supplied to Major Nuclear Project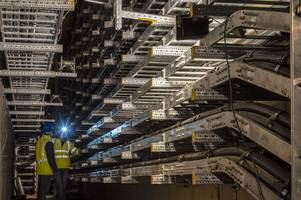 Leading manufacturer of cable glands, cleats and accessories, CMP Products, has supplied thousands of products to the world's largest experimental nuclear fusion project
The ITER research reactor will mimic the sun's nuclear processes aiming to produce its first plasma in December 2025, potentially paving the way for fusion power of the future.
Approximately 50,000 of CMP's Patriot trefoil and Falcon single cable cleats installed across 94km distance of cables, are capable of withstanding short circuits of 86 kA – and a dynamic force of 34,000 N/m.
CMP's dedicated cleat R&D team carried out short circuit calculations and analysis in support of the bid, which drew from a bank of several hundred tests previously conducted in CMP's research centre.
A detailed guide was presented to the nuclear installation teams, advising spacing and fixing requirements, taking into account axial load calculations and maximising the limited physical space.
Kathleen Kearns, European Manager, said:
"We are seeing significant demand for products for the nuclear market and our work with ITER, demonstrates our ability to provide suitably certified and tested products for this complex industry. Our experienced cable cleats development team spent a great deal of time interrogating the project specification, liaising with ITER, to ensure that the product offering suited the application and could be installed with ease."
CMP provided a series of installation training sessions, demonstrating best practice methods to installers. The team also visited the site to carry out hands-on product training, drawing from similar project experiences.
Jean-Baptiste Praud, who was pivotal in securing the project for CMP said:
"It was a major opportunity for CMP to become involved in this ground breaking project and to work so closely with the client and their subcontractors to ensure we had a complete understanding of the project requirements. CMP has demonstrated its 'nuclear safety culture' through internal training specifically tailored around the nuclear industry and recently being awarded the 'Fit4Nuclear' accreditation developed by the Nuclear Advanced Manufacturing Research Centre."
Since launching the product range in 2015, the business has seen the product line go from strength to strength, exploring new markets and investing in a 50,000sq. ft facility dedicated to the development, design and manufacture of cable cleats. 
https://www.cmp-products.com
About CMP Products
For an understanding of how CMP has continued to develop and manufacture products throughout the COVID-19 pandemic, please visit: www.cmp-products.com/covid-19. Part of the highly-respected British Engines Group since 1957 see www.britishengines.com. CMP is a market leader with over 60 years of heritage and experience. The company leads the way in industries including oil & gas, mining, rail, pharmaceuticals, construction and more recently in datacentres and tunnels. The cord grip range underwent testing covering the sealing performance, thermal endurance and cable pull out resistance. As technical experts in cable glands and cable cleats, CMP maintains its position as one of the market leaders through continuous improvement. CMP continues to carry out significant investment in research and development (R&D). The company has its own in-house laboratory which allows it to test and run trials on site. Employs over 400 people across 10 offices globally. CMP is committed to high quality customer service and offers worldwide on-site and off-site training on the installation of its products.
CMP Products Texas Inc.
Anna Hughes
Phone: +1 281 776 5201
Anna.hughes@cmp-products.com
More from Computer Hardware & Peripherals