The Unbelievably Easy Way to Mask Multiple Surfaces with 1 Product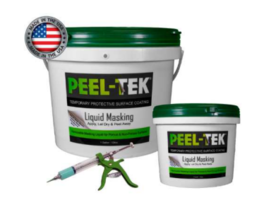 Peel-Tek Liquid Masking & Peel-able Protective Surface Coating offers a new way for Contractors, Painters and Diyar's to benefit from a revolutionary liquid masking product that can be used on porous & non-porous surfaces leaving NO residue behind!
Features and benefits of peel-tek liquid masking include
Stay-put formula works on brick, stucco, concrete, treated & untreated wood, textured walls, tile, painted surfaces, glass and more
Reduces the need to repair or replace bathtubs in new construction saving time & money
Safe for sensitive surfaces such as stained concrete and other specialty finishes
Environmentally friendly formula eliminates the use of solvents to remove residue left by traditional masking
About Us
With 30 years in the building and construction industry, founder of Peel-Tek, Scott Halbert created Peel-Tek Liquid Masking to address the need for advanced masking and surface protection technology in the building & construction industry. Peel-Tek's innovative masking technology use now spans across many industries including but not limited to building & construction, automotive, crafting and DIY industries.
For Immediate Release, contact:
Michelle Mitchell
Peel-Tek, LLC
+1-512-993-4976
michelle@peel-tek.com