Techcon Systems to Display Full Line of Valves at Productronica 2015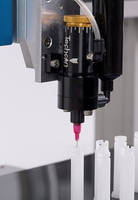 Garden Grove, CA — Techcon Systems, a product group of OK International and a leading provider of fluid dispensing systems and products, today announced they will exhibit a full line of valves and robots in Hall A4, Booth 221 at the upcoming Productronica International Trade Fair, scheduled to take place November 10-13, 2015 at the Messe in Munich, Germany.



On display will be Techcon's newly developed disposable material path (DMP) diaphragm valve. The new TS5624DMP valve features a "first to market" disposable material path, enabling difficult fluids and pre-mixed two-part epoxies to be dispensed without the need for frequent cleaning. The entire wetted area can simply be replaced in a matter of seconds, while the valve stays on the production line. The valve comes standard with a mounting bracket kit, valve air hose, luer lock fluid line, sample packet of DMP inserts and a dispensing tip selection pack. Typical applications include dispensing pre-mixed two-part epoxies and cyanoacrylate in bonding applications.



The TS9200D Jet Tech is a non-contact dispense valve capable of jetting fluid viscosities to 400,000 Cps. Jet Tech offers a fast jetting action producing hundreds of precise droplets in less than one second. The main feature of the valve is a single, easily replaceable diaphragm to eliminate dynamic fluid seals found in other jet valves. No longer is it necessary to disassemble, clean and replace worn seals, which translates into saving time and money. The diaphragm also allows fast cycle rates because of its very small mass. There is no large sliding valve stem that slows down the process. With this novel diaphragm design, the energy needed to eject a drop can be adjusted providing a wider process window.



Also at the show will be the TS9300HMSeries PUR Hot Melt Jet System.  The TS9300HM Diaphragm Jet with advanced high-temperature diaphragm is simple to use and especially easy to clean. Only the nozzle plate and diaphragm are in contact with the fluid. The jetting mechanism is isolated from the fluid to ensure contamination-free operation.  The TS9300HM syringe heating chamber features a disposable feed tube that can be easily removed together with the syringe to eliminate the need to clean residual PUR between the syringe and the jet. This unique feature simplifies the cleaning process and allows quick syringe exchange.



Company representatives will also showcase the new TSR2000 Bench Top Robot.  The TSR2000 Bench Top Robot Series delivers consistent, high-performance dispensing results at an affordable price. This versatile dispensing platform is ideal for a wide range of fluid dispensing applications, from inline to batch and for the following applications: dispense dots of solder paste, form-in-place gasket, filling, potting, encapsulation, bonding, coating and many more.



For more information, stop by Hall A4, Booth 221 at Productronica, or visit www.techconsystems.com.



About Techcon Systems

Techcon Systems was established in 1961 to service industrial manufacturing markets and has continued to be a leader in fluid dispensing systems and products. In 1996, OK International acquired Techcon Systems, providing a strong global sales channel, with direct subsidiaries in the UK. Today, Techcon represents OK International's Industrial Product Division. Currently focusing on fluid dispensing systems, Techcon's components are used in medical, automotive, telecommunications, aerospace, and industrial applications worldwide, helping to improve manufacturing processes and increase the customers' bottom lines. Techcon offers an array of fluid dispensing products and provides dispensing components ranging from disposable accessories to complete microprocessor-controlled dispensing systems, and precision valves. For more information, visit the company at www.techconsystems.com.

More from Agricultural & Farming Products