Steel leveling Sets with Spherical Washer Available from J.W. WINCO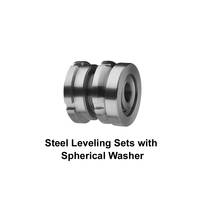 NEW BERLIN, WI – J.W. Winco, Inc., a leading supplier of standard industrial machine components, announced it now has available GN 350.2 Steel Leveling Sets with Spherical Washer.
The leveling sets, made from steel, have a zinc-plated, and blue passivated finish, are used for leveling, adjusting, and linking operations.
The RoHS compliant leveling sets, which are also available in stainless steel, consist of a threaded upper sleeve and a tapped lower sleeve. The fine thread allows precise, step-less setting and locking using a hook wrench. An anti-rotation disk also serves as a height limiter for the maximum height. The spherical washer allows precise installation of two non-parallel planes at a required gradient up to ~4°. Normally this screw is permanently and securely locked by the static load created when the mounting screw is tightened. If this is not sufficient, the use of a locknut is recommended.
J.W. Winco offers an extensive selection of inch and metric size adjustable levers, cabinet U-handles, plastic and steel hinges and locking mechanisms, revolving and retractable handles, hand wheels, hand cranks, tube connection and conveyor components, inch and metric construction tubing, shock absorption mounts, leveling mounts, hand knobs, spring, ball and indexing plungers, jig, fixture and fastening components, retaining magnet assemblies, toggle clamps, metric casters and wheels, universal joints, oil sight glasses, and metric tools for the industrial and commercial equipment industries. J.W. Winco's website catalog, with 3D CAD and online buying, is viewable at www.jwwinco.com.
For more information, contact
J.W. Winco
800-877-8351,
fax 800-472-0670,
Web at www.jwwinco.com,
e-mail: sales@jwwinco.com.
More from Agricultural & Farming Products