Sonobond Ultrasonics Will Exhibit Its Environmentally-Friendly, Cost-Effective Assembly Machines at Techtextil North America 2009 in Las Vegas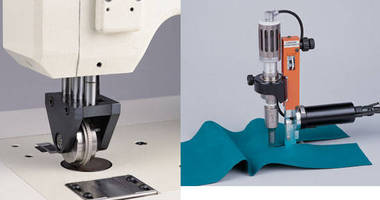 The SeamMaster(TM) High Profile Ultrasonic Bonder and the handheld SureCut(TM) HC35 Cutter/Sealer are ideal for nonwoven and synthetic fabric applications. Both units will be on display at Booth #347 in the Sands Expo and Convention Center, April 21-23.

WEST CHESTER, Pennsylvania, March 19, 2009-Sonobond Ultrasonics announced today that it will be demonstrating some of its ultrasonic assembly machines at Techtextil North America 2009. This is the premier trade show for technical textiles and nonwovens, and it will be held in Las Vegas, Nevada, April 21-23.

According to Melissa Alleman, Sonobond's vice president, the company will exhibit its SeamMaster(TM) High Profile Ultrasonic Bonder and its handheld SureCut(TM) HC35 Cutter/Sealer at Booth #347 in the Sands Expo and Convention Center. Ms. Alleman says, "Those visiting our display at Techtextil North America 2009 are sure to be impressed by how fast, environmentally-friendly, and cost-effective these two units are. They ultrasonically cut and seal nonwoven and synthetic fabrics. This is done cleanly-in one, quick step-without using thread, glue, or other consumables. It is easy to see why Sonobond equipment is the technology of choice for such a wide assortment of specialized applications in the textile, apparel, and engineered products markets."

Ideal for Hand-Guided Applications

The SeamMaster(TM) High Profile Ultrasonic Bonder is similar in appearance and operation to traditional sewing machines. However, it seals, sews, and trims nonwoven and synthetic fabrics in just one quick pass-without using thread. This eliminates time-consuming and costly problems such as needle and thread breakage, thread color turnover, and thread unraveling. The SeamMaster(TM) is also highly efficient with production speeds that are up to four times faster than sewing machines and up to 10 times faster than adhesive methods. The unit has a high clearance between the wheel and horn which makes it ideal for hand-guided applications that involve tight tolerances or working around curves.

Clean Cutting and Sealing in One Pass

Sonobond's handheld SureCut(TM) HC35 Ultrasonic Cutter/Sealer eliminates the problems of fraying, unraveling, and material buildup (beading) that can occur from the use of hot wire and rotating knife cutters. It is cost-effective and easy to use. The unit cleanly cuts and seals the edge of synthetic films and fabrics in one pass. The SureCut(TM) HC35 has the additional advantage of comfortably accommodating double layers of fabric. As the two layers pass through the unit, the edges are joined as they are cut and sealed. Single slits of ribbons, labels, and Velcro strips can be accomplished in one noiseless operation.

Advantages of Ultrasonic Assembly

Ultrasonic vibrations fuse nonwoven and synthetic materials, eliminating the need for needles, thread, or glue. As a result, there are no stitch holes or glue gaps. This makes ultrasonic bonding ideal for assembling such medical products as hospital mattress covers and body bags. In addition, Sonobond's SoftSeam(TM) ultrasonic process is excellent for producing surgical masks, gowns, and drapes that have soft, reliable, non-abrasive seams. These seams are capable of satisfying tough regulatory requirements while protecting medical personnel from hazardous fluids.

Invitation to Techtextil North America 2009 Attendees
In discussing Sonobond's participation in Techtextil North America 2009, Melissa Alleman encourages anyone involved in nonwoven and synthetic
assembly applications to come to Sonobond's booth in Las Vegas. She says, "Our bonding process is quick, reliable, and repeatable. It is also environmentally friendly. All Sonobond units-including the SeamMaster(TM) High Profile Bonder and the handheld SureCut(TM) HC35 Ultrasonic Cutter/Sealer-are easy-to-operate and require only minimal training. Equally important, we back our technology with solid technical support and exceptional customer service. I encourage people to stop by and see for themselves."

A Leader in Ultrasonic Welding Technology

Sonobond is a worldwide leader in the application of ultrasonic welding and bonding technology. For over 49 years, Sonobond has been earning an outstanding reputation for its pioneering work and quality-engineered products. Today, Sonobond manufactures a complete line of ultrasonic welding and bonding equipment for a wide variety of customers in the filtration, apparel, medical, automotive, appliance, electrical, HVAC, and aerospace industries.

Additional Information

To learn more about Sonobond products-as well as for information about its free, no-obligation Ultrasonic Welding Viability Test-visit the company's website at SonobondUltrasonic.com or call toll free 1-800-323-1269.

Related