Sonics to Display Ultrasonic Metal & Plastics Welding Systems at AATE, Booth #1015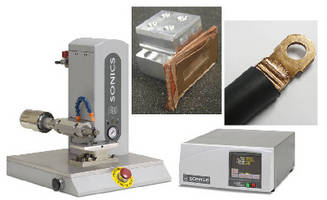 Metal Welders Provide Process Precision for Electrical Cable Termination and Battery Foil Tabbing

Sonics & Materials, Inc. will be showing their Ultrasonic Metal Welding systems, with precise, ergonomic controls and weld quality monitoring in time, energy and distance modes. Ideal for applications such as battery tabbing and wire termination, these systems can weld battery cables up to 100 mm2 and can also weld up to 100 layers of copper and aluminum foils for large batteries.

Systems are available in both 15 and 20 kHz frequencies with color touch-screen power supplies providing microprocessor control and available power from 1200 to 6000 watts.

Engineered to provide maximum precision and safety, systems feature ultrasonic horn/stack frequency display; a convenient ground base with integrated safety switches; self-orienting horn and tips; a patented one-piece horn/booster with dual nodal mounts; an exclusive safety slide advance system; and indicator signal lights for weld status, part quality and faults.

Other standard features include ultrasonic power load meter, plus upper and lower weld limit settings. All models include soft-start overload protection circuitry, load regulation circuitry and digital wattage display. A large anvil stage with independent x-y adjustment facilitates part fixturing and precision down/up stops provide total motion control.

Sonics will also be demonstrating its line of ultrasonic plastics welding equipment, including hand held and bench model systems in 40, 20 and 15 kHz frequencies for welding, staking and inserting. Ultrasonic components, such as generator kits and converters, designed for integration into OEM special assembly systems will also be on display at the booth.

About Sonics

Since 1969, Sonics & Materials, Inc. has been a world leader in the field of ultrasonic welding technology, manufacturing the industry's most advanced welding systems, including large-part linear vibration welders and spin welding machines. The company, which is ISO 9001 certified, designs and builds a complete line of hand-held, bench-top and semi-automated welding systems, and offers in-house application assistance, materials testing laboratory service, global sales and distribution network and on-site field service. Automotive, industrial, medical, packaging, toy, appliance, consumer and synthetic textile manufacturers around the world use Sonics' standard or customized equipment to weld the full spectrum of commodity and engineering materials.

Sonics & Materials, Inc., 53 Church Hill Road, Newtown, CT 06470, USA
Phone: (203) 270-4600, Fax: (203) 270-4610, Toll Free in USA: (800) 745-1105
Email: info@sonics.com, or visit the company's website at www.sonics.com
Sonics and Sonics & Materials are registered in U.S. Patent and Trademark Office.


More from Architectural & Civil Engineering Products