Solar Bonding Lugs from Erico Bond the Frames and Mounting Structures of Solar Photovoltaic Systems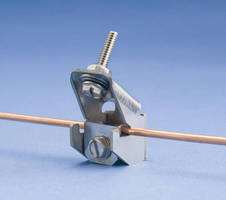 FOR IMMEDIATE RELEASE - SOLON, Ohio, USA, - The ERITECH® brand of solar bonding lugs from ERICO are designed to bond the frames and mounting structures of solar photovoltaic systems in accordance with NEC® requirements. These lugs are corrosion resistant and galvanically compatible with copper grounding conductors and aluminum photovoltaic module frames.

The solar bonding lugs are supplied with the required mounting hardware and are easy to install. The stamped lug has a lay-in feature that allows the positioning of the grounding conductor along multiple frames prior to securing the wire. In addition, the same hex head power driver can be used to install the lug to the frame and secure the wire into the lug.

Stainless steel serrated washers provide a superior bond to anodized aluminum and a lay-in feature is ideal for installation underneath module frames. The lugs can accommodate #14 solid to #6 stranded AWG copper grounding conductors. They are also UL® 467 Listed.

For more information, call 1-800-677-9089 or visit www.erico.com.

ERICO® is a leading global designer, manufacturer and marketer of precision-engineered specialty metal products serving niche markets in a diverse range of electrical, construction, utility and rail applications. The company is headquartered in Solon, Ohio, USA with a network of sales locations serving more than 25 countries and with manufacturing and distribution facilities worldwide. ERICO's well-known brand names include: CADDY® electrical and mechanical fixings, fasteners and supports; CADWELD® welded electrical connections; CRITEC® surge protection devices; ERICO® rail and industrial products; ERIFLEX® low voltage power distribution; ERITECH® facility electrical protection; and LENTON® concrete products. Visit ERICO online at www.erico.com.

cULus is a registered trademark of Underwriters Laboratories, Inc. NEC® is a registered trademark of, and National Electrical Code (NEC®) standard is a copyright of the National Fire Protection Association.

More from Agricultural & Farming Products