Rockwell Automation Announces Latest Enhancements for Allen-Bradley SLC 500-Series Controllers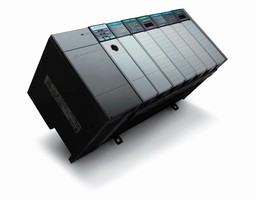 MILWAUKEE, Feb. 23, 2006 - Rockwell Automation announces enhancements to its Allen-Bradley SLC 500-Series controllers that help improve messaging performance over CIP-based networks and support higher levels of security in control system programming. By leveraging these enhancements, customers can increase operational flexibility, improve security of their controllers, and simplify their programming and configuration efforts. These features are available in Allen-Bradley SLC 5/03, 5/04, and 5/05 controllers with Series C, Version FRN-10 firmware, and require Rockwell Software RSLogix 500 software (version 7.10 or higher) for programming and configuration.
Improved messaging over CIP-based networks. New instruction updates to SLC 5/03, 5/04 and 5/05 controllers allow generic Common Industrial Protocol (CIP) commands to be initiated in devices, such as drives, that communicate on EtherNet/IP, ControlNet and DeviceNet networks. The instructions greatly simplify the programming, configuring, monitoring and troubleshooting of explicit messages on ControlNet and DeviceNet.
Users of SLC 5/05 controllers can now leverage the new explicit message capability on an EtherNet/IP network. This capability is implemented through the processor's Channel One Ethernet port and allows generic CIP commands to be initiated to Allen-Bradley EtherNet/IP devices and third party EtherNet/IP devices. The new instructions also help explain how data may be sent and received on an as-needed basis to minimize network traffic.

Enhanced security capabilities. The new firmware release for the SLC 5/03, 5/04 and 5/05 processors includes a secured processor capability through Rockwell Software RSAssetSecurity. Using the RSAssetSecurity service of the Rockwell Software FactoryTalk suite of production and performance management software, the RSLogix 500 programming software can configure a processor to be more secured against unauthorized access. Once secured, only users authorized by RSAssetSecurity will be able to upload or download this processor.

Additional features. The new Read Program Checksum (RPC) instruction helps evaluate the checksum ID of a processor's ladder program and can be used within the user ladder logic to determine whether online edits have changed the program or can verify that the program in the memory module matches the program in the processor's Random Access Memory (RAM).

The Dynamic Host Configuration Protocol (DHCP) provides flexible IP address assignment for the SLC 5/05 processor Channel One Ethernet port in addition to the Bootstrap Protocol (BOOTP). When the SLC 5/05 is configured for DHCP, it will broadcast a DHCP request at power-up requesting that an IP address be assigned to it. A DHCP server may assign any IP address from a pool of valid addresses.

Rockwell Automation (NYSE: ROK), is a leading global provider of automation, power, control, and information solutions that help manufacturers achieve a competitive advantage in their businesses. Headquartered in Milwaukee, Wis., U.S.A., the company employs about 21,000 people serving customers in more than 80 countries.

For more information on the SLC Firmware Enhancements, please contact the Rockwell Automation Response Center, 10701 Hampshire Avenue South, Bloomington, Minn., 55438, 800-223-5354, ext. 1891.