Renishaw to Feature XM-600 Laser Measurement System at IMTS 2018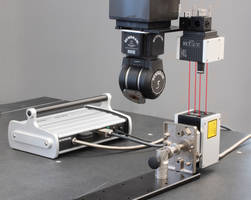 West Dundee, IL – August 7, 2018 – Renishaw, a precision engineering and manufacturing technologies company, will feature the XM-600 laser measurement system at IMTS 2018 on September 10 - 15 in Chicago.
Using technology developed for the XM-60 multi-axis calibrator, the newly launched XM-600 offers enhanced capability to connect directly with Renishaw's range of universal CMM controllers (UCC). This enables faster and easier error mapping, measuring all six degrees of freedom from a single set-up, in any orientation for linear axes.
The XM-600 communicates easily with Renishaw UCC software during the calibration routine to quickly build a complete error map of the CMM. This functionality is supported by UCCsuite V5.4 and higher, enabling the map of a CMM within half a day.
Since it maintains the same compatibility with CARTO software as the XM-60, the XM-600 is the ideal calibration solution for any manufacturing facility that utilizes both machine tools and CMMs.
For further information on Renishaw's XM-600 laser measurement system join us at IMTS in booth 135509.
About Renishaw
Renishaw is one of the world's leading engineering and scientific technology companies, with expertise in precision measurement and healthcare. The company supplies products and services used in applications as diverse as jet engine and wind turbine manufacture, through to dentistry and brain surgery. It is also a world leader in the field of additive manufacturing (also referred to as 3D printing), where it designs and makes industrial machines that "print" parts from metal powder.
The Renishaw Group currently has more than 70 offices in 35 countries, with around 4,500 employees. AM Solutions Centers are located in the USA, UK, Germany, Canada, India and China. For more information on Renishaw, visit www.renishaw.com.
For further information
Public Relations
Steph Behrens
Account Supervisor
Ivor Andrew
1901 Gary Avenue
Wheaton, IL 60187
Tel: +1 630-588-8320
General Information
Jeff Seliga
Marketing Manager
Renishaw Inc.
1001 Wesemann Dr.
West Dundee, IL 60118
Tel: +1 847-286-9953 (switchboard)
More from Fasteners & Hardware