PSG Automatik's SPHERO® Underwater Pelletizer Wins New Award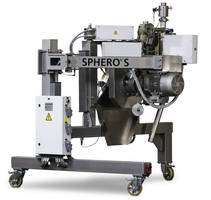 Shanghai, China – PSG® Automatik Plastics Machinery (a Dover Corporation Member) is proud to announce that it has once again been acknowledged as a major contributor to the plastics processing industry.



Building on the strength of a prior recognition bestowed upon its flagship SPHERO® and the introduction of a brand new addition to its line of underwater pelletizers, Automatik has beaten its competition to receive a Ringier "Technology Innovation Award".



The ceremony will take place in Shanghai in mid-August and endorses the technological advances built into the new SPHERO® S - shown for the first time to the public during Chinaplas 2014. The award demonstrates the German company's growing success in underwater pelletizing applications and its commitment to technical excellence.



Ideally suited to meet the demands in compounding, masterbatch and recycling applications, the attractively-priced SPHERO® S benefits from:



• a single mobile-frame structure for superior alignment in a smaller footprint



• an upgraded water bypass design for optimum process security and faster start-up



• the highest pellet quality thanks to the optimized design of both the cutting chamber and the knives



• the availability of either manual pressure adjustment or pneumatic pressure control for optimal process stability and reliability



• easy and minimized maintenance, especially for changes of die plates



Complemented by a range of tailor-made Automatik process water systems and dryer configurations, more than 200 SPHERO® underwater pelletizing systems are now in operation worldwide for various thermoplastics as well as for very specific niche products.



To learn more about Automatik and its ground-breaking SPHERO® S, please go to www.sphero-s.com and www.maag.com. For more information on Pump Solutions Group (PSG®), visit www.psgdover.com.



CONTACT: Chris Laurent

ChrisLaurent@maag.com or +41 44 278 8349



About Maag and Automatik Plastics Machinery:

Maag is the worldwide leading manufacturer of gear pumps, pelletizing systems, and filtration systems for demanding applications in the plastics, chemical, petrochemical, and food industries. Maag develops, manufactures, and distributes innovative, customized solutions for complete pump and pelletizing systems - with the expertise based on its long-term industrial tradition since 1910.



Automatik Plastics Machinery has been manufacturing innovative pelletizing systems of the highest quality for several decades. It is the world leader in underwater strand pelletizing systems. That leadership position is founded on state-of-the-art technology and on comprehensive know-how in all pelletizing techniques and pellet forms. The company's longstanding tradition in development, production and global sales and distribution is complemented by comprehensive advice and service backup. Automatik Plastics Machinery is a subsidiary of Maag.



The whole company employs more than 500 staff at its headquarters in Switzerland and its production sites and sales offices in Germany, France, Italy, Singapore, Taiwan, Malaysia, China, Brazil, and the USA and is represented in the markets with its brands "Maag Pump Systems", "Automatik Pelletizing Systems", and "Maag Filtration Systems". Maag, a Dover Corporation Company (NYSE:DOV), is a part of the Pump Solutions Group, itself a business unit of Dover Engineered Systems.