Preview for the Print Media for JTAG Technologies for Electronica 2012, Booth # A1.221, November 13th - 16th, 2012, Munich Showgrounds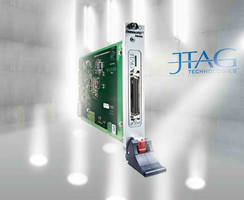 Eindhoven, The Netherlands - JTAG Technologies, provider of JTAG/boundary-scan products for electronics test and debug, will showcase amongst other new products the latest soft-and hardware developments:

Analogue Testing Made Easy - JT 2149/DAF I/O module for digital and analogue measurement

A new compact, mixed-signal (Digital/Analogue/Frequency) measurement module. The JT 2149/DAF is the first unit of its type to offer both digital and analogue test access to PCBs via JTAG Technologies' widely-used QuadPod signal conditioning interface. The JT 2149/DAF module has been designed to slot into JTAG Technologies' regular QuadPod(TM) transceiver system as used by the renowned DataBlaster series of boundary-scan/JTAG controller hardware. When connected to a circuit board via edge connector or test fixture/jig test pins the module enhances standard digital boundary-scan tests by enabling a series of analogue and frequency measurements to be made.

Capabilities of the JT 2149/DAF module include 16 dual-purpose digital pins capable of digital I/O stimulus and response at voltages of 1.0 to 3.6V plus frequency measurements of up to 128MHz on any pin. 12 additional analogue measurement channels can capture values from 0 to 33V with better than 10mV resolution. One further channel is available as a clock generator, programmable up to 64MHz.

Peter van den Eijnden, JTAG Technologies' Managing Director sees the following advantages in using this new module: it provides a host of features in a very compact format, ideal for system builders looking to add analogue capabilities into a JTAG/boundary-scan test system. Quite often test engineers wish to check out some circuit fundamentals, such as voltage rails and clock frequencies, before undertaking more stringent boundary-scan based structural and functional tests. The JT 2149/DAF is perfect for this application and helps the system builder who might ordinarily use an extra piece of test equipment. The JT 2149/DAF can be controlled through an interactive panel (virtual instrument) within JTAG ProVision as well as through Python(TM) scripts. A full Python API is included as part of JTAG Technologies current ProVision releases.

Newest Express Boundary-scan Controller

The latest extension to our line of high-performance boundary-scan IEEE Std. 1149.1 controllers will also be a highlight at the show. Known as the DataBlaster JT 37x7/PXIe the new unit offers support for the increasingly popular PXIe/Compact PCI-express slot format that now features in some of the latest Automatic Test Equipment based on the PXI(e) standards.

JTAG has developed the new boundary-scan controller to satisfy the growing requirements for high-speed In-System Programming (ISP) of flash memories, serial memories and CPLDs as well as complex digital circuit testing. The new DataBlaster JT 37x7/PXIe offers users sustained test clock speeds of up to 40MHz by use of JTAG Technologies' proprietary ETT(TM) (Enhanced Throughput Technology) system and features an on-board flash image buffer memory.

Supplied with the complementary QuadPOD(TM) system, the new DataBlaster/PXIe offers four synchronised TAPs (Test Access Ports) able to support multi-TAP test targets (UUTs) or gang programming of four single TAP targets. QuadPOD(TM) can also house the full range of JTAG Technologies' SCIL modules, allowing the user to deploy custom test interfaces (BDM, I2C etc..) or the mixed signal DAF (Digital, Analog Frequency) measurement module.

Autobuzz from JTAGlive

JTAG Technologies is also using the electronica event to present Autobuzz, a tool that learns a connectivity signature of all boundary-scan parts within a design from only the BSDL models of those parts. Autobuzz expands the "seek and discover" mode of BuzzPlus and automatically gathers circuit data of a known good board and then performs a full connectivity compare against the faulty circuit.

Autobuzz is a useful tool for repair and rework technicians, especially when design data is missing or incomplete.

About JTAG Technologies

JTAG Technologies is a market leader and technology innovator of boundary-scan software and hardware products and services. The company was the first to bring to the market such important advances as automated test generation, automated fault coverage analysis, automated flash and PLD programming via boundary-scan, and visualized boundary-scan analysis. Its customers include world leaders in electronics design and manufacturing such as Ericsson, Flextronics, Honeywell, Medtronic, Motorola, Nokia, Philips, Raytheon, Rockwell-Collins, Samsung, and Sony. Its innovative boundary-scan products provide test preparation, test execution, test result analysis and in-system programming applications. With an installed base of over 6000 systems worldwide, JTAG Technologies serves the communications, medical electronics, avionics, defence, automotive, and consumer industries with offices throughout North America, Europe and Asia. JTAG Technologies headquarters are located in Eindhoven, The Netherlands.


More from Materials