PNC Inc. Acquires Pluritec Driller/Routers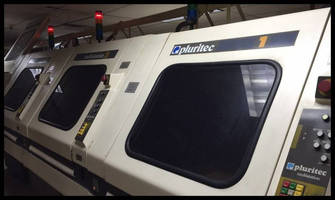 Nutley, NJ – PNC recently acquired four Pluritec Multi-Station units, two Driller/Routers and two Drillers. These machines will complement our existing drilling and routing Departments with precision drilling/routing capabilities. The multi-station machines arepowered by linear motors which increasespeed, accuracy and productivity. The machines are also programmable with bit hit counting and broken drill notification.



The two Driller/Routers are equipped with 80K spindles making them compatible for either Drilling or routing applications.These two units are both capable of controlled depth Drilling and Routing as well.  The other 2 drilling machines have 125 K and 180 K spindles geared toward drilling only.  These two units are also capable of controlled depth drilling.  All four Multi-stations are user friendly programmable, and can be programmed to Drill/Rout up to 18 different jobs consecutively, without interruption.  The machines can also be programmed for bit hit counting and broken drill detection and notification. 



PNC Vice President Calvin Switzer states: "The controlled depth Drillers will help immensely in our Blind via process, and the controlled depth routing capability will allow us to add step downs on boards that require it. Also, when routing one panel prototypes on our current routers, we cannot utilize all the spindles at the same time, whereas with a single spindle unit, we can."



PNC Inc. is a New Jersey based printed circuit board manufacturer since 1968. PNC is the leading producer of PCBs for Microwave, Aerospace, Defense, and Satellite industries. PNC offers a range of products including rigid, flex, and rigi-flex PCBs comprised of various base materials. PNC's current certifications are ISO 9001:2008, MBE/WBE Certified, Small Business, ITAR Registered, SDB-Minority Owned, UL for High Tg, MIL-PRF-31032, and MIL-PRF-55110. For more information, please visit http://www.pnconline.com.



For additional technical information, contact PNC Inc. via phone at (973) 284-1600 or e-mail: info@pnconline.com.



More from Communication Systems & Equipment