PEM® Type PFC4(TM) Self-Clinching Captive Panel Screws Install Permanently Into Stainless Steel Assemblies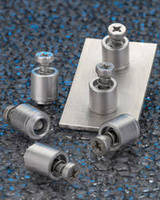 PEM® Type PFC4™ self-clinching captive panel screws introduce fastener solutions engineered to install permanently and reliably into stainless steel assemblies.  They can be specified for use in stainless sheets as thin as .060" /1.53mm with hardness up to HRB 88 on the Rockwell "B" scale.  Their integrated captive screw in a spring-loaded assembly reduces loose hardware and minimizes parts count; fully recessed heads in fastened position allow tool-only access; and the fasteners comply with UL 60950 access standards.



Designers additionally can specify MAThread® anti cross-thread technology as a safeguard to correct potential off-angle thread mating and promote proper alignment during installation.  A Torx® recess can be supplied in place of the standard Phillips drive.



The fasteners are manufactured from 400 Series stainless steel offering corrosion resistance comparable to zinc plated steel. They are available in assorted screw lengths and in thread sizes #4-40 through #10-32 and M3 through M5. All Type PFC4 captive panel screws are RoHS compliant.



Installation (using a PEMSERTER® or other standard press) is accomplished by inserting the fastener into a properly sized punched or drilled hole, placing the fastener into the hole of the anvil, and positioning the mounting hole over the fastener's shank.  Sufficient squeezing force is then applied until the shoulder of the retainer comes in contact with the sheet material.  The fastener ultimately will be flush on the side of the sheet opposite installation to enhance cosmetics.



Detailed specifications, installation animation, CAD models, and performance data (Bulletin PF) for these captive panel screws can be accessed at www.pemnet.com.



More from Software