Patience + Perseverance Pay Off for Able American and Star Thermoplastic Alloys & Rubbers, Inc.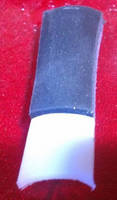 Relationship Results in Better Nylon 6,6 Overmolding TPE at 70-80 Cents Less Per Pound

RICHMOND, IL -- The old adage that "good things take time" isn't something practiced, much less tolerated, in the plastics industry, for obvious reasons, at least in molder/materials supplier relationships. Molders need suitable materials, NOW, and of course customers want their molded products, NOW!

But this wasn't the case between custom molder Able American Plastics (Richmond, IL) and their TPE (thermoplastics elastomer) supplier, Star Thermoplastics Alloys & Rubbers, Inc. (Broadview, IL). Despite being under heavy pressure by one of their largest customers to ramp up quality and reduce materials costs, the original TPE supplier - not STAR - was either unable or unwilling to invest resources to improve the overmolding TPE. When STAR was called in, patience and perseverance by both companies paid off handsomely and profitably, not only for them, but for the entire molding community as well.

The Bottom Line

· A brand new TPE for overmolding onto Nylon 6,6 was formulated because STAR was willing to invest in the landing of a new customer; and Able American Plastics was willing to give STAR the time they needed. It would be noted that this was not just a carefully tweaked version of a moderately good competitive overmolding TPE which Able had been buying from another TPE supplier, but an entirely new formulation with numerous features and benefits.
· The end product molded with equally good-to-better efficiency and was markedly better looking on the finished product. Adhesion was improved as well.
· Major cost savings were achieved and realized. Owing to the improved formulation, the newly created TPE now costs Able American 70 cents to 80 cents LESS per pound than the TPE they had been previously using. This is significant in that each shot required ½ pound of TPE.

Both firms candidly admit that as the relationship moved along, they considered backing off further R & D and sampling, often admitting that totally solving the cost/adhesion/appearance challenges by improving the original TPE, with its numerous shortfalls, simply wasn't possible.

The Story As Told By the Molder and TPE Formulator
Able American Plastics, a small-to-mid sized ISO 9001:2008 certified custom molder known for their innovative approaches to molding, took on a new project in 2009 with a new customer (whom they opt to not name). The challenge was to overmold a special grade of thermoplastic elastomer onto a large part made out of Nylon 6.6. While overmolding anything onto this substrate was challenging enough, it was the cost of the TPE that had Able and their customer perplexed. In addition, there was the occasional instance where the TPE formed a poor bond onto the Nylon 6,6 part, requiring the materials to be recycled, or worse, scrapped.

A call to the plastics industry's leading TPE suppliers from Able American's Plant Manager Tom Brown generated interest among several firms. But initial interest in this project quickly waned by nearly all the firms, owing to the difficulties TPE formulators have had for years trying to come up with a TPE that could effectively and cost-efficiently be overmolded onto a Nylon 6,6 substrate.

However, one TPE supplier persevered and as a result, has become sole TPE supplier for this program, with the promise that STAR TPEs would be used in other programs to follow. That firm was and is Star Thermoplastic Alloys and Rubbers, Inc. (Broadview, IL, a suburb of Chicago). It is important to reiterate that STAR was not the original source for the overmolding TPEs at Able American, and although STAR had a range of TPEs that could be molded onto nylons, they were challenged by the request by Able to come up with a better working AND lower cost TPE alternative.

According to Dr. Prakash Sanjeevaiah, PhD, Research & Development Manager at STAR, "Initially we were concerned that we didn't have, an off-the-shelf, suitable replacement TPE overmolding grade that did the job, and at a lesser price per pound for this potential customer. We suggested to Able that they mix one of our popular TPE grades with the current TPE from their supplier to study the bonding effect while we worked to find a permanent, one-TPE solution. In the meantime with our rheological lab equipment and expertise, we analyzed the formulations of the competitive product being used by Able American."

Over the months, however, further attempts by Able to come up with solutions included raising the temperature in the molds. But this, say company sources, only served to change the cosmetics in the finished product and/or bring on problems with release from the molds. Able has numerous high quality Cincinnati injection molding machines ranging from 40 to 500 tons, used in most cases for short runs.

Another individual who played a key role in the relationship between the two firms was and is Greg Wendt, a Detroit-based sales representative for STAR. Wendt had been soliciting Able American for a period of time, and, learning about the quest by Able to find a new source for an improved TPE and possibly one at a lower price, offered the resources at STAR to help find a solution. Thus, according to sources at Able American, it was the desire and ability of Wendt to serve the best interests as well as the long-term interests of BOTH the TPE producer AND Able American that kept the relationship going until the challenges were resolved.

Small Initial Steps Toward a Solution
Initial, but limited, success was almost immediately found with Tom Brown at Able blending the STAR TPE 50/50 into the competitive TPE, with the result that, by doing so, Able could trim their material cost by as much as 22%. Further refinements in the STAR formulations enabled their customer to eventually reduce the ratio in the mix down to 10% of the "other" TPE and 90% using the STAR thermoplastic elastomer.

"While this did seem to resolve the situation and STAR considered maintaining the status quo, as it were, with the 90% - 10" mixing approach" admits the STAR spokesman, "the folks at Able continued to push us to find a better remedy, and showed their patience by giving us several extensions to come up with the ideal solution.

"We concluded," continues Dr. Sanjeevaiah at STAR, "that the absolute solution was not in reformulating the existing TPE they were buying from a competitor by looking deep into the chemical composition of the original TPE, or adding the proverbial "foo-foo dust" to the formulation, and ending up with a similar TPE, at or near the same pricing levels. Rather, we sought to develop an entirely new formulation for the application. We put our new product development team to work to make this a reality."

Within a short period of time, notes Plant Manager Brown at Able American, "The R & D folks at STAR came up with a brand new formulation totally unlike that of the STAR competitor, and it solved our problems in many ways - for starters, the new STAR TPE worked as well as the competitor thermoplastic elastomers. But most important of all, STAR was able to sell us this new TPE at 70 cents to 80 cents per pound LESS, and a superior TPE, resulting in significant cost savings for both us and our customer.

If a morale can be drawn from - or rather injected into - this story, it is that Able American, unlike many of their competitors, not only had confidence in the ability of their material supplier to come up with an answer, but ALSO was willing to give STAR the time needed to find the answer. Benefits to Able American have been both stated and realized, with START benefitting with a new customer who is taking STAR into new customer programs. Benefits to the entire captive and custom molding industry coming out of this relationship is the availability of a highly cost effective alternative and solution with a quality TPE that can be overmolded onto Nylon 6,6. Other efforts are going on at the STAR labs to develop a series of universal OM TPEs that can bond to any nylon grade substrates.

STAR, founded in 1993, is a leading provider of thermoplastic elastomers with many production lines to fill both large and small orders, a full-service laboratory and trained sales and technical support personnel across the continent. Company products are sold under the trade names StarFlex(TM), StarPrene®, StarMed(TM), StarTuff(TM), StarXtrude(TM), StarLexar(TM), StarPet®, StarBond(TM), StarClear®, and StarGrip-X®. With its newly enhanced chemicals laboratory, STAR has the ability to duplicate any existing TPE with improved formulations and at better prices.

Further information on the companies in this story can be obtained by contacting:
Marketing Department, Able American Plastics, Inc., 9703 US Route 12, Richmond, IL 60071. Tel: 815-678-4646. Email: ableplastics@aol.com. Web: www.ableplaticsusa.com.

Marketing Department, Star Thermoplastic Alloys & Rubbers, Inc., 2121 West 21st Street Broadview, Il 60155. Tel: 708-343-1100. Fax: 708-343-1110. Email: sales@starthermoplastics.com. Web:www.starthermoplastics.com.

More from Fluid & Gas Flow Equipment