MultiFiber Inspection Microscope from Sumix Receives Gold in 2019 Cabling Installation & Maintenance Innovators Awards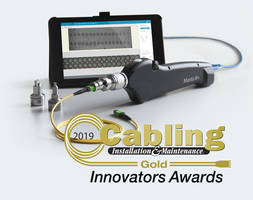 Oceanside, CA, October 7, 2019 – Sumix Corporation, fiber optic inspection equipment manufacturer, announced today that its Manta-W+ fiber microscope for MPO inspection was recognized among the best in the industry by the 2019 Cabling Installation & Maintenance Innovators Awards. The stellar third-party judging panel included cabling and communications system specifiers, designers, integrators and managers with vast professional experience.
Sumix was recognized as a Gold honoree.
"On behalf of the Cabling Installation & Maintenance Innovators Awards, I would like to congratulate Sumix on their Gold-level honoree status," said Cabling Installation & Maintenance's Chief Editor Patrick McLaughlin. "This competitive, unbiased program celebrates the most original and innovative products in the Industry."
The Manta-W+ portable microscope from Sumix substantially simplifies and speeds up multi-fiber connector inspection, capturing and analyzing up to 6 rows of 12 or 16 fibers on an MPO connector simultaneously. It takes only 2 seconds to check MT12 ferrule and get a Pass/Fail report. The microscope can be used equally effectively in the lab, the manufacturing floor, and the field.
About Cabling Installation & Maintenance
For over 20 years, Cabling Installation & Maintenance (www.cablinginstall.com) has provided useful, practical information to professionals responsible for the specification, design, installation and management of structured cabling systems serving enterprise, data center and other environments. These professionals are challenged to stay informed of constantly evolving standards, system-design and installation approaches, product and system capabilities, technologies, as well as applications that rely on high-performance structured cabling systems. Our editors synthesize these complex issues into multiple information products. This portfolio of information products provides concrete detail that improves the efficiency of day-to-day operations, and equips cabling professionals with the perspective that enables strategic planning for networks' optimum long-term performance.
About Sumix Corporation
Sumix Corporation (www.sumix.com), a software and manufacturing company, is producer of high-resolution 3D Interferometers and portable 2D inspection probes for testing and verifying fiber optic connectors. Privately-owned, and based in Oceanside, California, Sumix has been designing and manufacturing optical and imaging products since 1999.