Mirador™ Chemical Injection Control and Diagnostic Module Provides Greater Monitoring and Control Capabilities over the Chemical Injection Process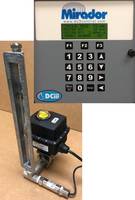 Corpus Christi, TX, December 5, 2017 - DCiii, LLC introduces the Mirador™ Chemical Injection Control and Diagnostic Module that provides greater remote control and diagnostic monitoring capabilities over the chemical injection process for reduced waste and production costs. Operating on an open-based platform with Modbus RTU communication protocol, the Mirador™ seamlessly integrates with sensors, communications, and software to provide full operational visibility, tracking, control, and analysis over chemical injection processes from a remote control station. Through a simple retrofit to existing "tank and pump" only systems, this value-added subsystem addresses 95% of chemical injection systems that work by on/off control capacity to deliver chemical to the point of injection.
The Mirador™ has the capability to remotely change process configurations on dosage, calibration, temperature limits, and other parameters. Constant monitoring of injection volumes ensures a more accurate chemical dosage, resulting in far less wasted material from over-injection and improved product quality and performance by avoiding under-injection.
In addition, the Mirador™ allows operators to directly verify and automatically recalibrate injection rates to provide for a more accurate chemical delivery. Personnel no longer need to visit sites on numerous occasions to manually calibrate the chemical injection system. As chemicals follow different dosing protocols, the Mirador™ helps technicians remotely maintain appropriate dosage at the desired flow rate based on changing well or process conditions. Mirador™ reduces manpower requirements.
With no requirements for third-party based communication systems, the Mirador™ seamlessly integrates with existing SCADA systems and networks. While other chemical injection monitoring systems require that data stay in their networks, the Mirador™ operates on existing communication systems, eliminating potential security leaks and monthly surcharges to buy back data.
For more information on the Mirador™ Chemical Injection Control and Diagnostic Module, refer to the website at www.dc3control.com or contact the company at 361-882-3444 or sales@dc3control.com.
About DCiii, LLC
Specialists in chemical injection monitoring, DCiii, LLC provides technology, engineering, troubleshooting, and installation services. Founded in 2016 based on a better idea for chemical injection monitoring and control, the company understands the specific challenges associated with the chemical injection process and shortcomings of current systems. The Mirador™ is the first product line that addresses the need for greater control and analysis of the chemical injection process without large investments in communication networks. www.dc3control.com
More from Electrical Equipment & Systems